7 Must-Have Vacation Items, According To Influencers Who Travel
@tylynnguyen On Instagram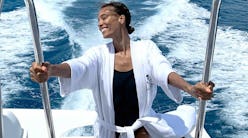 There are few things more exciting than finally planning a summer vacation. Picking your destination, curating an itinerary, and, of course, settling on what to pack are all part of the process. If you're headed somewhere warm, then a suitcase full of lightweight, versatile separates is a must, as are a strong selection of sandals and swimsuits. However, if you're like the majority of women, you probably don't revel in the actual physical act of packing. It takes time, it takes foresight, and it takes patience. No one knows this better than stylish influencers who pack for vacation (and work) constantly. If practice makes perfect, well they're zeroing in.
Though you're used to tapping style influencers for outfit ideas, they're also especially inspiring when it comes to what to pack for a vacation because they're constantly on the road (and in the sky). With all of this in mind, hear from some of your favorite fashionable women about where they're adventuring to this summer and what they can't travel without. From a skincare product that will change your post-swim skin regimen, to a perfect well-fit swimsuit you'll re-wear for the months to come, the advice below is sure to spark some wanderlust and take the hassle out of your summer packing too. Until someone invents a robot that can do the folding and rolling for you, use their tips and tricks to help you finish the task and focus on what's most important: relaxing.
Destination: Mexico City
Item: "A statement dress is always a must have for me while I'm on holiday. Its a no brainer, easy yet cool got to outfit for the beach or a night out!"
Destination: South of France and Spanish Coast
Item: "My key item is a slip dress, it's very easy to wear and never goes out of style.You can wear it with a blazer and a pair of mules or barely there sandals, a basket bag and voilà the perfect chic vacation look."
Destination: Paris and South of France
Item: "A staple shoe is a must for me when traveling, something that I can wear with a bunch of different outfits. I'm obsessed with platforms (I'm 5'3, so can use a few extra inches!) and these sandals are the ideal go-with-everything shoes!"
Destination: Cuba
Item: "I am taking my Day and night cream from TULA with me everywhere I go. It is one of the most hydrating creams I have ever tried and I use it everyday and can't imagine not using it anymore. It keeps my skin super hydrated, which is very important to me especially since I have dry skin. When going on vacation I will be exposed to the sun more, so its important to keep my skin hydrated at all times."
Christina Caradona, @troprouge
Destination: Biarritz, France
Item: "A non-fussy easy beach to street bag. Relaxed but also fashionable and timeless."
Destination: Bermuda
Item: A one-piece bathing suit.
Destination: Fort Lauderdale
Product: "I'm obsessed with this BB cream because I hate wearing foundation on vacation. This cream has a lightweight coverage, protects my skin because it has SPF 30 and it's oil free. It's a staple for me whenever I travel."