The 27 Travel Skincare Products You Need In Your Carry-On
Jessica L. Yarbrough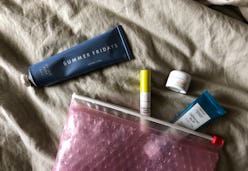 As difficult as it is to whittle down your wardrobe to a few key outfits for holiday travel, most beauty enthusiasts would agree it's even harder to settle on a travel-friendly skincare routine. Besides the whole 3.4-ounce size limit thing, there's also the issue of space. I mean, you could theoretically pack your usual line up of cleansers, serums, and moisturizers into a separate checked suitcase, but if your vanity looks anything like mine, even that would be a struggle (not to mention a hassle). Enter the latest TSA-approved travel skincare products, which are just as easy to pack as they are effective.
To determine your ideal travel routine, experts say you should consider where you'll be going and how long you'll be gone. "For cooler climates in general, I would recommend seeking out treatments with peptides," Dr. Jennifer Vickers, a dermatologist at Sanova Dermatology, tells The Zoe Report; since cold, dry air can strip moisture from your skin. Stash a few of Peach & Lily's ceramide-spiked Original Glow Sheet Masks in your bag to rehydrate on-the-go. "I like products with hyaluronic acid to really maximize hydration," she adds, like Peter Thomas Roth's mini Water Drench Hyaluronic Cloud Cream. Destined for a humid or tropical getaway? "A gel cream may be more favorable," Dr. Vickers tells us — the travel-size Squalane and Probiotic Gel Cream in Biossance's trial set is ideal. No matter where you're going — snowy or sunny — Dr. Vickers maintains that daily SPF is a must.
Just because it's in a tiny bottle doesn't mean it deserves a coveted spot in your carry on, though — an efficient travel routine requires downsizing in terms of both fluid ounces and skincare steps. If you'll only be out of town for a few days, ask yourself if you truly need to pack your favorite exfoliating scrub or once-a-week mask (no shame if the answer is yes). You may also want to invest in multitasking products that fill more than one role. Peach & Lily's Lazy Day All-in-One Moisture Pads act as a toner, essence, and moisturizer all in one; and Kopari Coconut Melt Mini can be used as an oil cleanser, lip balm, overnight cream, and even a hair mask.
Don't forget to slip a few hydrating essentials into your purse for the plane. The recycled cabin air you're exposed to in flight has about half the humidity level that your skin is used to, Melissa Kanchanapoomi Levin, a clinical instructor in dermatology at Mount Sinai Hospital in New York City, told Allure. In other words, skin can become dehydrated pretty quickly, leading to dry patches, dullness, and breakouts. To counteract this effect, why not skip the makeup and apply a hydrating face mask while en route? In-flight masking doesn't have to be messy or awkward as it sounds — just slather on a thick layer of Summer Fridays Jet Lag Mask, which moisturizes skin with natural oils and ceramides, and doesn't need to be rinsed off.
When deciding what to pack, you might as well mix practicality with pleasure. It can't be ignored that "travel size" is interchangeable with "trial size" these days — so travel is the perfect excuse to experiment with the pricier products you've been considering. Cult-favorite Vintner's Daughter Active Botanical Serum costs upwards of $200 for a full bottle, but the travel size sample is a mere $65 — who could resist?
Ahead, 27 travel skincare products that are proven to work and perfectly sized for packing.
Makeup Removers and Cleansers
Toners and Mists
Exfoliators
Serums
Moisturizers
SPF
Oils
Masks
Sets