4 Easy Halloween Halloween Hairstyles Inspired By Black Icons
ShowBizIreland/Getty Images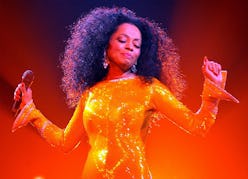 Megyn Kelly messed up this week when said she didn't see the wrong in wearing blackface for Halloween. I don't have the time, energy, or word count to explain why wearing blackface isn't only historically racist, but also wildly uncreative. I totally understand that Halloween is the one time of year where you get to be anyone (or anything) you want, and often times, there are plenty of costumes and makeup products to help the cause. Hair, however, is probably one of the simplest ways to switch things up — and these easy Halloween hairstyles inspired by Black film and music icons like Diana Ross and Billie Holliday are no exception. And — surprise! — you don't have to paint your face to get the look, either.
If you have natural hair, you're halfway there, but there are a number of wigs out there, synthetic and human, that are great for a scary night out — and you won't damage your hair with heat or dye in the process, either. The name of the game is technique, and maybe a helping hand from a friend. But the beauty of the looks ahead is that the don't have to be perfect: It's all about your take on the classic inspiration. Ahead, celebrity stylists reveal their favorite Black hair icons, and how they'd try the styles.
Billie Holiday
"Start by using two different synthetic solid hair colors from your local beauty supply store," says hairstylist Felicia Leatherwood, who works with Issa Rae and Lena Waithe. "Braid the two solid colors together to make one braid. Afterwards, slick your real hair down using your favorite gel and a flat brush, assembling a ponytail that sits lower at the back of your head.
"Secure your ponytail with nylon ponytail holder, then take the faux braid and it around your ponytail, securing with big and small hair pins. Then you're ready for a night on the town like Lady Day!"
Diana Ross
"A classic Diana Ross hairstyle needs two or three curly wigs," says Vernon François, hairstylist to Lupita Nyong'o and Amandla Stenberg. "You attach them on top of each other — or one at the front, and one at the back. Use lots of hairspray and backcombing with a killer walk. The best products to achieve this look would be water for hydration (like my Mist Nourishing Water Spray), and freeze spray for hold."
Da Brat
"Get a lot of mini rubber bands," advises hairstylist Nikki Nelms, who counts Zoë Kravitz and Janelle Monáe as clients. "Section your hair as if you were doing individual box braids. Put a rubber band at the base and repeat on each section every inch down. Lightly loosen the hair in between each rubber band to create that puffy effect. You can use a light serum for control and add braiding hair for extra length, if needed.
"Use a small amount of edge control and the end of a tail comb to create baby hair. Fold the bandana into a headband, lay the widest part on your forehead, and tie in the back."
Diddy
"My iconic moment would be Diddy's textured mohawk from 2003," says hairstylist Vernon Scott, who works with Cynthia Erivo and Danai Gurira. An iconic, pivotal shift in Black hair culture and punk rock style, with tasteful execution! Diddy runs the city. Whether with clean faded sides, adding hair to the top, or slicked sides and push pins, this look is achievable in many variations."