3 Easy Halloween Makeup Ideas Using Just One Product
Tristan Fewings/Getty Images Entertainment/Getty Images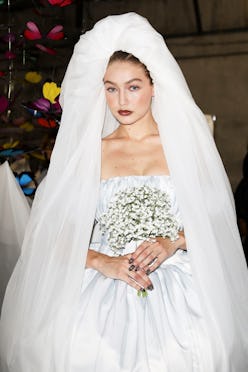 I have a not-so-guilty pleasure come Halloween time, and it's not just indulging in a generous handful of fun-sized Twix. Every year, I find myself inexplicably drawn to those addictive terrifying makeup tutorials with no fewer than a dozen steps or an entire makeup bag's worth of products. And after seeing what feels like hundreds of them, I've learned one thing: Scary makeup takes a lot — priming, precise application, and painstaking attention to detail notwithstanding. And even though I appreciate a costume that takes so much time and effort, I'll always opt for a simple Halloween costume idea that requires no more than a couple products — and only few steps at that.
For some, the spooky holiday might be worth splurging on that neon eight-pan palette you've been eyeing, or a bright lipstick that you'd normally shy away from. Or, you can even take inspiration from your favorite movie character or from one of the looks from fashion month — all with the swipe of one lipstick. (After all, Halloween's the one day of year where you can be anyone you want to be.) But still, there's nothing wrong with a simple Halloween costume that won't take hours to remove.
Ahead, three easy-to-execute suggestions and the products you can use to achieve them.
Inky Tears
"For this Beyoncé-inspired look, I took the Kat Von D Tattoo Liner and put it on the back of my hand, then took a cotton swab dripping in makeup remover and wiped it from my hand," Alyssa Forever, a beauty vlogger with nearly 1.4 million YouTube subscribers, tells us. "I took the soaked cotton swab and let it make drips under my eyes to look like tears" Just add a retro pink lipstick, lingerie, and a martini to be the best you can Bey.
Classic Cat Whiskers
Really looking for something low-maintenance? Jenna Dewan wore this Cat in The Hat-inspired costume back in 2015, but it's the kind of look that works any time. To get the look, makeup artist and YouTube vlogger Aaliyah Jay says she recommends using Inglot Gel Eyeliner #77 to create a dramatic wing eyeliner. "Then, take that same eyeliner and create a circle at the top of your nose to look like a cat," she says. "Make a line from the nose down to your top lip to create the cats Cupid's bow, which is always attached to the lips. Next, attach the line and fill your top lip with the black gel eyeliner. On your cheeks, create line to mimic whiskers." And as a bonus, Inglot's gel liner goes on smoothly, is majorly smudge-proof, and washes off easily with regular makeup remover.
Blushing Bride
Jeremy Scott's Spring/Summer 2019 Moschino show was filled with retro whimsy and grungy glamour, as he took inspiration from a series of 1996 polaroids where he "experimented with makeup and personas, gender-bending looks, and DIY hairstyles," according to his Instagram. And while this is a pretty toned-down version of a regular bridal look, it's possible to get the look with a single product: your favorite lipstick.
Most of the models wore shimmery metallic lipstick, done by Kabuki for M.A.C. — but Gigi Hadid, the butterfly bride, went for a a chocolatey sheer powered by everyone's favorite liner: Lip Pencil in Chestnut.