How To Make Your Couch Maximize Your Living Room — Not Take Away From It
Antoha713/Shutterstock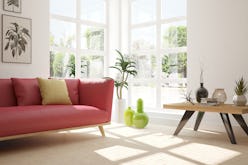 Sometimes it's the fine details that make any space in your home feel warm, inviting, and totally your desired style. But that's not to discount the importance of some of the more major pieces. Obviously, items that take up more space — like your walls and large furniture — have the ability to determine a lot about any room. As a result, the way you arrange these items can make a huge difference on the overall impact and feel. In terms of your living room, knowing a few designer-approved couch placement ideas can improve the flow, make the space feel larger, and create the most welcoming environment possible.
Selecting the proper sofa for your living room is your first step — taking things like personal style, needs, and budget into consideration. But after you've found the perfect fit for your space, there's still the not-so-small matter of figuring out just where to put it. And that can be a big challenge — particularly when you're lacking in square footage. Thankfully, when used in conjunction with smart storage and other space-saving tips, where you put your new couch can be a total game-changer for making the room as big, functional, and stylish as it can be.
If this is a dilemma you've been faced with, see ahead for four crucial things to keep in mind when re-arranging your living room, as advised by Houston-based Principal Designer of Charbonneau Interiors, Nancy Charbonneau, who specializes in creating beautiful and comfortable spaces.
Don't Block The Energy
Anyone following basic feng shui principles knows the importance of how energy flows through your home. But even if you're not a follower of this method, it's still worth considering its main concept. "The energy that a room evokes is one of the most important elements to any space," says Charbonneau. "When placing your sofa, it's imperative to make sure that it does not block any main furniture pieces or decor that the room focuses on. Keeping the space open and airy is always an easy way to make a room feel larger, yet more inviting."
Utilize A Sofa Table
If you've got enough room, Charbonneau recommends using a sofa table as a means of making the space feel more functional, and the furniture more inviting. "Placing a table behind the sofa allows for more accent or decorative lighting to be incorporated," she explains. "In this case, the sofa would of course not be placed against a wall, which also results in a living space looking and feeling much more open."
Make Sure It's Functional
"Ensuring that your sofa is placed in a spot that makes sense for the layout in a room is always a must," says Charbonneau. "Especially in smaller spaces where every inch really counts." She recommends taking consideration of other things in the room that will attract attention, like your television or a window with a great view. When finding the right spot for your couch, just be aware of leaving easy access to these things.
Comfort Is Always A Must
If you're still shopping for the perfect piece of furniture, don't neglect comfort in favor of style, suggests Charbonneau. "Sure, having a stunning sofa will always look aesthetically pleasing and as though the room is perfectly pulled together, but if it's not very comfortable, it's not very functional," she says. "Again, especially when you're working with a smaller space, it's important to make sure every piece really serves a purpose. And if that means passing up your dream sofa that you know you won't truly be able to relax on, then that's perfectly okay!"