This Loveseat From Target Is Perfect For Small Living Rooms
Antoha713/Shutterstock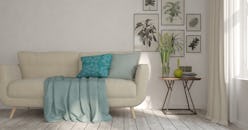 In the furniture world, sofas rank pretty high in terms of importance, second only to beds probably. But what does one do if their perfect sectional or three-seater sofa still does not offer enough sitting space? Enter the underrated miracle piece known as the loveseat. While it may be too small to be a standalone item in a living room, as a sidekick, it's second to none. And, luckily, finding a loveseat under $200 is not only possible, it's surprisingly easy.
Loveseats are genius in that they serve several purposes in a home. The first is obviously practicality. The settee for two offers the perfect amount of extra sitting space for those with a heart for entertaining — but don't take up too much real estate. It's amazing what a little extra couch room can do for home, even if you're working with a smaller space. Instead of scrambling for spare chairs or (gasp!) floor pillows, you have a nice little sofa to keep guests comfy and relaxed while they visit your home.
The second purpose involves aesthetics. When played right, loveseats can serve as the ideal accent piece or pop of color in an otherwise neutral space. For minimalists who favor muted colors and more toned-down beige and tan palettes, a loveseat in a trendy shade can add the perfect dose of vibrancy. If you're not sure where to start with color, try one of the trendier ones of the year. Yes, you can go bold with Pantone's Living Coral, slime green, or yellow. You can also go a little more low-key with a pretty pastel like dusty rose, lilac, or mint. And if richer tones are your thing, try a jewel tone like emerald or sapphire on your couch for two.
Now if color is not for you, there's still a loveseat with your name on it. Yes, a chic neutral settee delivers an added touch of class to any room. And if you want your color in smaller doses, they're a good vehicle for hosting a printed or brightly colored throw pillow or blanket.
Another thing to note is that loveseats don't necessarily need to remain indoors. Outdoor settees for a balcony or patio are essential for any home and don't need to be stale in silhouette or color. You can find some truly stunning outdoor loveseats in vintage designs and patterns or with a more chic, minimalistic look.
If the only thing stopping you from picking up a loveseat for your home is the budget factor, rest easy. There are plenty of affordable two-seaters that won't make dent in your wallet. In fact big-time retailers like Target, Wayfair, and Amazon have lots of options for as little $200 (or less!). That means you can give your living room some much-needed oomph (and added space) just in time for spring.
To prove it, ahead find 10 stunning loveseat options for no more than $200. A couple of these gems are for outdoor spaces, so if you're in need of giving your porch a refresh, read on. Get ready to spread the love...seat.