The Emerging Brand That's Giving New Life To The Acrylic Bag Trend
Montunas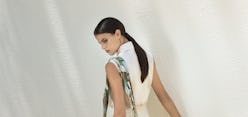 Discovering an under-the-radar brand sparks a sense of joy for most fashion lovers, especially when it's one that's as beautiful as it is unique — which is exactly why Montunas and its new purses at Net-A-Porter should be on your radar. The pieces are a mixture of cool materials and trendy details, and they're undoubtedly going to be seen on the arms of It-girls everywhere in no time.
Officially launched in 2017, London-based brand Montunas was founded by former model Elke Ruge, and is now run with the help of her two daughters, Amanda and Elena Hawila. The brand, which means "women from the mountains," draws its inspiration from Ruge's native country of Costa Rica. And while it's not exactly "new," per se, it's clearly picking up steam — and the fact that its new products are landing on Net-A-Porter is further proof of its popularity with the fashion crowd.
Of course, its momentum may also have something to do with the fact that acrylic is having a major moment in 2019. Yes, it made its way into jewelry and home decor, but it was in purses that it really shined. Spring 2019's new arrivals were filled with pieces from brands like Cult Gaia and Valet Studio that Instagram still can't get enough of, which essentially provided the perfect opportunity for Montunas to burst onto the scene. So if you've considered yourself a fan of this trendy material, you're going to want to add its latest arrivals to your closet, stat.
The newest pieces from the brand on the luxury retailer's site are nothing short of Insta-worthy, thanks to their pearlescent sheen and feminine details. Of course, it doesn't hurt that each one is inspired by a planter, which just adds another picture-ready element to each piece. The bags are breathing new life into the popular bag trend, and there's no doubt you'll want to get on board with these new arrivals. Ahead, the latest styles from Montunas to hit Net-A-Porter that deserve a spot in your summer bag collection immediately.
The Stelis
Structured and timeless, box bags have been in the fashion scene for decades. This particular version comes with a detachable silk-satin pouch inside, and is made from a marbled acrylic that's reminiscent of this season's pearl trend.
The Trellis Lirio
This new purse is made with ivory acetate panels for an elegant take on the plant pot-inspired style. This piece features a linen pouch inside to secure your belongings, and is finished off with a sweet blush pink tassel rope.
The Guaria
Created with marbled acetate, the Guaria bag from Montunas' "Orchid" collection will be a sweet addition to any spring look. The purse features printed scarf handles for functionality (and style, obviously), and inside is a removable organza pouch to fashionably store your personal possessions.