11 New Pearl Earrings At Maimoun That'll Convince You This "Outdated" Jewelry Trend Is Back
Maimoun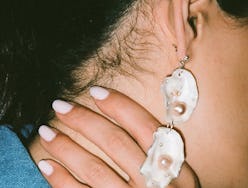 If you haven't stumbled upon the online shop Maimoun just yet, do yourself a favor and bookmark it now. The Brooklyn based e-tailer has a well-curated selection of pieces from around the world featuring both new and established designers, with an array of new pearl earrings currently taking over its new arrivals.
The selection of styles offered from several designers provides a fresh take on what is typically thought of as a traditional jewelry trend (in other words, they're not your grandmother's pearls). Maimoun's offering of pearl-infused earrings are for the treasure seekers. By combining pearls with everything from metals and colored stones to shimmering shells, these styles will have you feeling like you picked them up while traveling the world.
No passport is required to secure these luxe styles, though. Add to your jewelry box a unique pair of shell and pearl earrings that were handmade in Norway and retail for $205. The marriage of two materials from the sea makes for an eye-catching, refined duo that's nothing like the pearl jewelry of the past. This style will elevate even the most basic of knits and provide a unique finishing touch to your cocktail attire.
A fellow gem in the mix is a pair of blue glass stone and baroque pearl drop earrings from Mondo Mondo. Though they were handmade in California, their vintage quality makes it feel as if you uncovered the pair at an estate sale. This style, along with others on Maimoun, will have you rethinking everything when it comes to pearls. Continue on to start shopping sets that'll convince you to give this old jewelry trend a second chance.