25 Stocking Stuffers At Nordstrom For Beauty Minimalists, Luxury Lovers, & Everyone In Between
Kopari/Instagram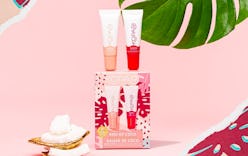 Eager gift givers and receivers are most likely counting down to one particular moment during the upcoming holiday: The instant it finally comes time for tearing into the presents that have been sitting ever so tantalizingly beneath the tree. Amongst all the fanfare for those fancifully wrapped items, though, the sweet little surprises that await inside stockings can sometimes be overlooked. But these stocking stuffers at Nordstrom give all new meaning to that oft referenced saying that good things come in small packages — at least as far as beauty gifts are concerned.
Pulling together a standout stocking is no easy feat when it's got to compete against big, splashy buys. But any beauty obsessive knows the best makeup, hair care, skin and body care comes in smaller boxes, anyway. And if you're a self-proclaimed beauty aficionado (and a savvy shopper too), you know Nordstrom is a one-stop shop for goodies to make your most minimalist and over-the-top glam loved ones alike more than happy this holiday season.
Plus, you've got up until noon ET on Dec. 22 to get your orders in and score free delivery by Christmas Eve — so it's far from too late to go on a stocking stuffer shopping spree. So, start scrolling and stock up on gifts for every kind of beauty fan, from luxe fragrance sets to bestselling skin care and everything in between.