21 Travel Hair Products To Use When You Leave Your Expensive Stuff At Home
IGK Haircare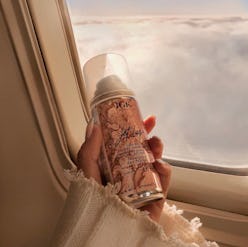 With the proverbial hustle and bustle of the holiday season — endless parties, finding gifts for everyone on your list, and putting in extra hours at work before taking a few days off for the holidays — it makes sense that packing might fall to the end of your to-do list. But your hair deserves better than last-minute travel-sized products plucked from the aisles of the drugstore, or whatever "universal" shampoo and conditioner the hotel has on hand. Even if you have to leave the expensive stuff at home, this season's luxe travel hair care products prove that smaller bottles don't have to mean lower standards.
According to experts, you should keep two things in mind when picking the pocket-sized products that belong in your carry-on: your hair type (of course) and your destination. "Stop and think of where you're traveling," Garren, the co-founder of R+Co and a celebrity stylist known for cutting actress Haley Bennett's hair, tells The Zoe Report. "If you're going from New York to Miami, that's dry to humid — so use products that you would normally use in the summertime." The theory holds up no matter where you're heading. For those jetting to the dry West Coast or skiing in a European mountain town, Garren suggests stocking up on shampoos, conditioners, and stylers that add moisture and hydration.
It's a good idea to plan out some travel-friendly hairstyles for your trip, as well, in order to best plan your product line-up. "For any hair type, put your hair in braids or a topknot when travelling," Leo Izquierdo, the co-founder of IGK Haircare and a stylist who works with Victoria's Secret Angel Gizele Oliveira, tells The Zoe Report. "When you arrive, take out your braids or take down your topknot and refresh with a little dry shampoo — you'll get easy, frizz-free waves and your hair will stay hydrated while you travel."
"If you want a more dramatic, slicked back look for vacation, pull your hair back into a chignon or knot at the nape of the neck," Garren says. "This always looks good at the beach, or in the evening paired with big hoops and a red lip." He also suggests a low braid as an all-textures style to try while traveling, which is easy to accessorize with a beret or straw hat, depending on where you are.
"For natural hair, a silk bonnet or scarf is a must," Kim Kimble, a hairstylist who works with Beyoncé and Tyra Banks, tells TZR. "It keeps hair nice while you sleep." And don't forget the extras; like hair ties, bobby pins, combs, brushes, and styling tools.
Ahead, 21 hairstylist (and TSA) approved travel hair products — for all textures and types — perfectly sized for your suitcase.
Travel Shampoos
Travel Conditioners
Travel Stylers
Travel Masks
Travel Sets
Travel Tools