Why Travel-Size Products Are Beauty's Hottest Trend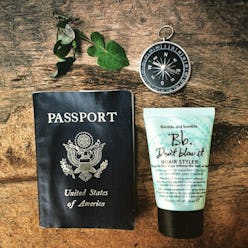 If beauty products have been looking smaller to you lately, your eyes do not deceive you. From body wash to bronzer, products are shrinking in size, making trying new brands and traveling with them that much easier.
This new size is not about gimmicks or TSA guidelines, in fact it's presenting a new way of using products so that we actually finish them before they expire and can easily bring them along on our increasingly mobile lives. "Travel size has become a way of life in beauty," says Julie Bell, Executive Vice President of Global Marketing for Benefit Cosmetics. "It gives women the opportunity to try a product they might not normally buy with minimum investment. In many cases, we see women buying the regular size for home and the mini size for their purse. Everyone is on the go, and travel-sized makeup solves a beauty dilemma."
Photo: @benefitcosmetics
Photo: @stowaway
Mobility is a major factor in the rise of travel-size items. One can feasibly purchase a few sets of travel-sized products at a fraction of the price of regular-sized ones to keep in a purse, car or desk for touch ups or on-the-go application. "It's a set of intersecting trends," says Julie Fredrickson, founder of Stowaway Beauty, a brand launched this past February with six products, all approximately one ounce each. "Our lives have changed so much, more people are freelancing and don't go into an office the way you used to. The constancy of doing your makeup at home isn't the same. Beauty is becoming more mobile because women are so mobile."
In addition to being more mobile, women are more conscious and educated consumers who understand they are in a position to dictate how and what they buy. In the case of smaller beauty, simplicity, convenience and quality over quantity have helped perpetuate the trend forward. "It's hard for people to conceive that the beauty industry got it wrong," says Fredrickson about the size of traditional products. "It's entirely possible that in 10 to 15 years this will be the norm. The industry will recognize women want to carry less and have more value."
Beauty is becoming more mobile because women are so mobile.
Sephora stores have seen a significant uptick in the sales and interest in travel-size beauty, even changing their Beauty To Go section of the store to Beauty On The Fly to better help shoppers navigate the assortment and various categories. "At Sephora, we find our travel-sized beauty business is booming for two specific reasons," says Beth Hayes, VP of Merchandising for Sephora Collection. "First, it's very important for our client to be able to take their favorite products with them when they travel so they feel comfortable and can stick to their routine. The second reason minis are so popular—particularly in prestige—is that it allows our client to try a product without making a full-size commitment. Not everyone is willing to purchase a full size if they haven't sampled the product, so miniature versions are a safe way to try new things."
Photo: @bumbleandbumble
Hayes says the top-selling travel-size categories at Sephora are makeup applicators, masks, hair, moisturizer, lip balm, primer and setting spray. Top products include Bumble & bumble Don't Blow It 2oz, Kat Von D Tattoo Liner (mini version), Fresh Sugar Lip Petites, and Make Up For Ever Mist & Fix 1.01oz.
Sephora Favorites
Sephora's in-house line of products has also expanded to include a more robust travel-size offering, including sheet masks, eye masks, lip liner and mascara. Call it travel or trial size, it's a category Fredrickson and her company refer to as "right sized." "Right sized means products you'll actually finish before they expire, because you shouldn't buy anything you won't use," she says. "Also consider how they fit into your busy life—products should be portable."
LA-based Arcona spa has also gotten into the miniature market, making travel-size sets to house their natural skincare products. And countless other companies have gotten on board as well—in addition to Stowaway, 3FLOZ and Pinch Provisions are brands solely dedicated to creating smaller sizes.
Photo: @freshbeauty
So if size is at the center of this entire movement, why couldn't everyone just decant their favorite lotions, shampoos and foundations into smaller containers?
Firstly, not everything is easily transferrable, namely lipstick, eye shadow and most cosmetics. Secondly, many items—especially non-toxic beauty and those with minimal preservatives—must be stored in specific types of containers so that they remain effective. "I am the queen of decanting—I decant everything," says celebrity makeup artist and founder of online beauty retailer Reed Clarke Fiona Stiles. "But sometimes the product comes in a glass bottle because it needs to be in one, and if you decant it, the product gets ruined (same for a dark bottle when a product is light sensitive), so it's better if it comes from a manufacturer in the packaging it's meant to come in—just more petite!"
The definition of luxury is changing, especially as we are increasingly busy and have much more on our plates. I don't care how much money you have, you can't buy time.
It seems counterintuitive, particularly when it comes to beauty and fashion, but in the case of travel-size products it's what's not there that's making this trend into a thoroughly modern one. "Times are changing," says Fredrickson of why the convenience and mobility of travel-size beauty is the reason the category is growing exponentially. "The definition of luxury is changing, especially as we are increasingly busy and have much more on our plates. I don't care how much money you have, you can't buy time."