How Young Fashion Labels Are Taking Advantage Of This Insta-Friendly Trend
Cornel Cristian Petrus/Shutterstock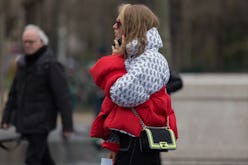 "Someone in a Saks Potts coat is probably somebody you would stare at," Cathrine Saks, one half of the duo behind five-year-old, Copenhagen-based brand Saks Potts, tells The Zoe Report over the phone. She's speaking, of course, about the label's brightly colored coats that have been worn by Kendall Jenner, Cardi B, and the entire street style set. Fashion lovers around the world knew the second they saw a flash of lime green and a pop of fur that it was a Saks Potts piece. Then, the brand touched on something new — 2019's resurging logomania trend — with its eye-catching, logo-covered designs down its runway for its Spring/Summer 2018 show in Copenhagen. Suddenly, Saks Potts' monogrammed dresses and bathing suits were the pieces every cool girl was wearing on Instagram — and just as suddenly, a wave of other young brands started to put their own spin on the logomania trend as well.
It's a movement that wasn't entirely expected — even by some of the designers who implemented the logos themselves. "It's so funny, I actually haven't thought about other brands also having a logo print," Saks notes. But as she and Barbara Potts, the second half of the Saks Potts duo, have kept their heads down and quietly created these buzzy monogrammed pieces, the designers behind PH5, Marine Serre, Totême, and other young brands have carved their own niches in the logo space as well. The reason why, according to some of them, is multi-faceted.
As you'd probably guess, much of it can be chalked up to consumers who want to feel like they're part of an elite group who can spot what's bubbling up in fashion before anyone else.
After all, as Milton Pedraza, the founder and chief executive of the Luxury Institute, a consulting firm in New York, told the New York Times in November 2018, "Younger people are adopting logos to signal their allegiance to a tribe or cause." And though the logos of heritage brands are probably more recognizable to the average consumer than one by a label launched in 2014, one could almost say it gives these young brands even more of a reason to implement these new logos themselves. In effect, they're creating a smaller, more exclusive club of in-the-know shoppers who — as you well know — love to show off their "insidery" pieces on Instagram.
"Customers are associating their identities with brands more than ever. As a brand, we want to endorse the expression of our customers as well. We think showing [a] logo is a way to show friends what you like and who you support," says Wei Lin, who co-founded the advanced contemporary women's knitwear brand PH5 in 2014, and has shown numerous logo-covered looks throughout her collections since. (This season, she shortened the logo to a simple "5," a nod to brand recognition.) "We think this is a trend that will continue to grow as our young customers are hungry for identity."
And, as The RealReal's Head of Women's Sasha Skoda explains to TZR in an email, it helps each brand not only strengthen it identity, but make its own space in an increasingly crowded market. "Using logos as a brand identifier is a great way for young brands to create strong branding and iconic, memorable pieces," she says. "It also helps to set these brands apart as we continue to see growth in the amount of emerging brands entering the mid-tier luxury market."
Naturally, aesthetics are behind the trend as well. "The thing about [a] logo print is that it's so versatile; you can really use it in all kinds of different ways, from season to season," explains Saks. "Even though the theme and the inspiration changes, you can always find a way to integrate it into all these specific themes that we have for each collection."
Which makes sense, considering many of the logos from these young brands hardly look like logos at all. From far away, the respective "SP" and "PH5" logos could easily be mistaken for a quirky print, and Marine Serre and Totême basically opted out of discernible letters altogether. It's a major departure from the logos of heritage brands that are often so big and obvious that they're literally impossible to miss. This new wave of logomania is one that's a little harder to spot; it's unique enough to reinforce the coolness of each label's clothing, rather than distract from it.
Of course, that all translates to performance — which, unsurprisingly, contributes to the growth of the trend as well. Though Saks explains that she and Potts weren't influenced by other brands using logos, it still proved to be a smart move on their part. "Like [with] many of our things, we are quite intuitive when we decide, and we just really make what we feel is the right thing to do at a certain point," she explains. "And then I think it was so well-received, the print and the logo, and we were so happy about finally having some recognizable print, that we of course decided to keep it and to make it a part of our brand DNA."
Thus, as brands across the board increasingly incorporate these logos into their designs, they're seeing it pay off — literally. "Logos continue to trend in the marketplace across all demographics, so it's definitely a smart move," says Skoda. "In general we see logo product demand 1.6x more in resale value."
Plus, at the end of the day, it's an easy way to advertise a brand. "We will continue to include our logo going forward," says Lin. "It's an effective and 'free' way to market our brand. We are still relatively small and young, [and] need to continue connecting with our customers in such a direct way."
According to Skoda, it's likely that others will follow the same lead. "Logos have been an important part of the luxury industry for a long time, and are continuing to evolve," she explains. "Just in the past couple of years we have seen luxury brands like Gucci, Burberry, and Givenchy update their logos and make it a core part of their new collections — in part because they know that logos are resonating with millennial and Gen Z consumers. And with the rising demand in streetwear, where logos have long played an important role (think Supreme), we expect to see this trend continue, especially with younger brands."
A few of those brands to watch (and shop), ahead.
Shop The Logomania Trend