Why Your Favorite Brands Are Changing Their Logos — And What That Means For You
Daniel Zuchnik/TZR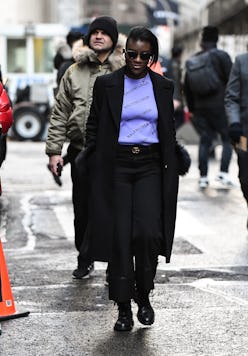 One of the biggest fashion trends of the decade doesn't have anything to do with the size of your bag or the style of your jeans. Instead, it has to do with fonts. A long list of luxury labels — Burberry, Balenciaga, Celine, Calvin Klein, Diane Von Furstenberg, Saint Laurent, Rimowa, and Balmain among them — have undergone rebrands in recent years, and all of these luxury fashion brands' new logos are now virtually indistinguishable. It's a phenomenon that The Fashion Law has dubbed "the blanding," and it's why you might do a double-take the next time you pass a billboard or scroll through the selection of designer tees on Net-A-Porter or MatchesFashion: All have emerged with a similar style of all-caps, sans serif typeface.
While this may seem counterintuitive for an industry built on heritage and prestige, it actually makes sense in the context of where fashion is headed. As a shopper, you now have access to brands 24/7 through channels that didn't exist a decade ago — channels where you're also able to discover a brand's values, meet its ambassadors, see behind the scenes, and communicate with both other fans and the brand itself. This means that logos have to be extremely adaptable, reading just as fluently on an iPhone screen as they do on a six-story billboard.
"It used to be that a brand was really summed up in the visual identity, which included the logo, the colors, the typography, the campaigns ... all that kind of stuff," says Deb Gabor, a brand strategist and the CEO of Sol Marketing. "In today's day and age, it's so much more than that."
Which is why, perhaps, Balenciaga's creative director Demna Gvasalia looked to something as (literally) pedestrian as what he described to WWD as "the clarity of public transportation signage" for inspiration when reimagining the house's logo in fall 2017. The new, ultra-simple word mark doesn't just broadcast to the world, this is a designer bag, (although, yes, it still does that) but rather signals that the wearer is part of a community — one that's on the cusp of what's next instead of being stuck in the past.
"The logo used to be this quick, visually recognizable way that someone could become aware of your brand and know that it's your brand off the top of their head," says Gabor. "Today, there are so many more ways to do it, and having a brand relationship is like having a brand relationship. It's creating a tribe of users, versus just, 'Let me put my product in front of you.'"
A redesigned logo is also often an effective way for an incoming creative director to usher in a new phase when they arrive at a house, so in our current era of designer musical chairs, it's no surprise we're seeing them so often. When Riccardo Tisci joined Burberry in March 2018, he quickly set to work modernizing a mark that was last changed in 1999, when famed art director Fabien Baron dropped the "s" in Burberrys and updated the equestrian knight icon that was first introduced in 1901.
With the help of the graphic designer Peter Saville — who also guided Calvin Klein through its 2017 rebrand — Tisci selected a bold, no-frills logo as well as a new orange-and-tan monogram pattern inspired by an archival Thomas Burberry print. The latter in particular takes center stage this season with the rollout of the brand's first monogram collection, featuring everything from hoodies and fanny packs to scarves and car coats.
For Burberry fans, the timing of the transition doesn't just help establish the brand's new voice — it could also help pieces retain their value over time.
"Brands that have been successful in rebranding while keeping equity of older pieces tend to make the change at the beginning of a new chapter. For example, a new creative director," says Graham Wetzbarger, chief authenticator at the luxury consignment retailer The RealReal. "I think Gucci did this successfully between [Tom] Ford, [Frida] Gianinni, and [Alessandro] Michele, changing their labels, packaging, and store designs each time. Now, for example, it's very easy to recognize a Tom Ford Gucci item by its black tag, and collectors love that."
A similar progression appears to be underway at Celine, where last fall creative director Hedi Slimane dropped the French accent above the first "e" in the brand's logo — along with seemingly all traces of the look his predecessor Phoebe Philo so expertly cultivated during her ten-year tenure. In the wake of the changes, Philo devotees turned "Old Céline" into a kind of brand of its own, building an Instagram for archival images and driving up searches for the label on resale sites.
For his second collection, however, Slimane signaled that he might be willing to acknowledge the past — if not the Philo-era past, than at least the Celine that existed in the '70s and '80s. There may be good reason for the shift: "A smart brand might change their logo but they would never drop their heritage, and that's what consumers are shopping for," says Wetzbarger. "Whether that's signature leather goods, cashmere tartans, silk prints, or even a certain aesthetic of ready-to-wear."
The delicate balancing act between old and new is playing out in a very different way elsewhere under the umbrella of Celine's parent company LVMH. In May, Rihanna launched her luxury label Fenty with the French conglomerate, and is now hard at work establishing its identity. The process involves designing monthly drops and cultivating brand recognition, in which visual marks play an essential role. Rather than toe the line entirely, Fenty's logo strays somewhat from the all-caps, sans serif typeface formula. The subtle addition of a crossbar "f" and a backwards "n" — a detail borrowed from the pop star's super-successful beauty line — helps to define the new label. It's luxe, but not stuffy; modern, but not boring — a lot like Rihanna herself, come to think of it.