This $50 Rug From French Connection's New Home Collection Looks Like An Expensive Vintage Find
Courtesy of French Connection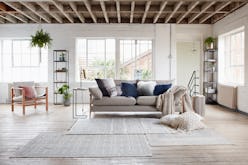 Over the years, it's pretty likely that you or at least one of your friends has donned a design by French Connection. The apparel brand has long been known for its fashion-forward pieces with wide appeal, and it's now taking its talents into the home space. French Connection's new home collection with Creative Home Ideas features the same stylish aesthetic you'd expect, translated into affordable rugs, throws, pillows, and bedding.
Striking the perfect balance between elevated and comfortable in your home is no simple feat, especially when you're trying to do so without totally breaking the bank. Shelling out for a brand new furniture set isn't always realistic — not to mention a little daunting. So, a careful curation of finishing touches that look super expensive, like this affordable accent table, is the ideal way to spruce up your spaces.
Luckily, the prices on French Connection's home décor release ranges from $50 to $300, so you can make maximum impact with minimal damage to your savings. Case in point: the collection's rugs all ring in at under $100, offering an easy and cheap way to tie a room together. The brand's several options, like the $50 Bryn Rug, are perfect for peeking out from beneath a bed or providing texture to a polished living room. Plus, they give off that effortlessly cool vibe like you picked them up at your local vintage shop.
As fall brings in colder weather, take this opportunity to add cozy elements to your rooms by way of French Connection's pillow and throw offerings. The Fayola Decorative Pillow, $59, is fashioned out of rich chenille in dusty rose, charcoal, or light gray color options — ideal for making your sofa seem more inviting.
The best part about the collection (aside from the price tags) is the neutral, sophisticated color palette used for each of the items. Whether your home is globally-inspired or ultra modern, you're sure to find something that can seamlessly translate to your style aesthetic.
Shop some of the new homewares from French Connection below, and head to the brand's site for even more great finds.