Trader Joe's Healthy Frozen Meals That Are Perfect For Nights You Can't Be Bothered With Making Dinner
@traderjoes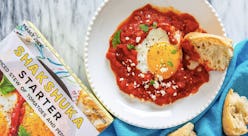 Sometimes after a long, tough day, the last thing on your mind is whipping up dinner — which is why you might find yourself using Postmates a bit more often than you'd like to admit. And while the occasional culinary indulgence is one of life's great pleasures, sometimes you also want to be able to cook something wholesome at home — even if you've only got a couple of minutes to spend on it. That's where Trader Joe's healthy frozen meals come into play.
Besides stocking stellar beauty products and plenty of wines for under $10, everyone's favorite affordable grocer always seems to deliver when it comes to easy-to-make options that cater to a wide variety of dietary needs as well as tastes. In particular, their freezer section is a spot where some of their most beloved and sought-after products can be found, from gluten-free pizza crusts made from veggies to pre-made versions of your favorite Indian takeout. Essentially, it's a dream come true for on-the-go folks in search of quality quickie meals.
While TJ's has a few key staples that stay in rotation, another exciting thing about the cult-favorite grocery store is the release of new products — some of which are tasty, cheap, and healthy enough to stop you from dialing up delivery (again). Ahead, find five of the latest frozen offerings that you can heat and serve in minutes, give or take the addition of a few ingredients that will make you feel like you're having a restaurant-quality meal.
Shakshuka
Sure, this Mediterranean/Middle Eastern dish of spiced, stewed spiced tomatoes and peppers is traditionally served breakfast, it would also make a totally satisfying dinner. This new kit has everything you need to whip this vegetarian meal in five minutes — all you need to add is a poached egg and some crusty bread for dipping.
Outside-In Stuffed Gnocchi
TJ's cauliflower gnocchi has reached cult status among its gluten-free customers, and now this new twist on the classic pillowy pasta dish drizzle seems poised to be just as popular (for those who do at flour, at least). Since the cheese and sauce is already inside these tender little clouds, just add a drizzle of olive oil and sprinkle of Parmesan to finish them off.
Broccoli & Kale Crust Pizza
First cauliflower, then butternut squash, and now broccoli and kale becomes a pizza crust for those looking to get a few more veggies into their diet. Just top with a little sauce and whatever you've got in the fridge for a slightly healthier spin on everyone's favorite food.
Jackfruit Cakes
These vegan, crab-less crab cakes, make a great side dish or snack, but when you serve them on a bed of your favorite greens and top with a vegan aioli or remoulade, they instantly become a super-simple, healthy dinner.
Organic Vegetable Foursome With New York Strip Steak
This medley of broccoli, peas, French green beans, and zucchini, with garlic onions and parsley for flavor goes from side dish to first-class dinner with the addition of sliced steak and Aioli Garlic Mustard Sauce (as recommended by TJ's) or you can top with your favorite protein instead.