The Best Trader Joe's Products Ever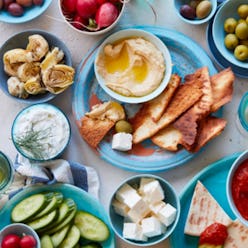 Two things you'd notice if you took a glance at our bank accounts: One, we're quite poor. Two, all of our money goes to Trader Joe's. No, seriously, all of it. Between the grocery selection, yummy snacks and great beauty buys, we have found ourselves officially hooked. And since the prices are perfect for our pittance of a bank balance, we wouldn't have it any other way. To express our longstanding devotion, we put together a list of the best TJ's buys of all time—the crème de la crème, if you will.
We Heart TJ's
Quinoa And Black Bean Tortilla Chips
Who knew quinoa worked so well in chip form? Apparently Trader Joe's did ... and we're very into it.
Savory Thin Mini Crackers
These mini crackers pack a wallop of flavor and pair perfectly with hummus, cheese and basically any dip under the sun.
Spicy Chai Tea Latte Mix
Beware, coffee: This chai powder is ready to steal your thunder.
Soyaki Sauce
Our two favorite sauces—soy and teriyaki—in one bottle? *pours it on everything*
Soft Strawberry Licorice Twists
We like to think of this strawberry licorice as a gift from the candy gods.
Honey Wheat Pretzel Sticks
At first glance, these seem like your typical boring pretzel snack. But one bite of the salty-sweet combo stick and you'll find yourself devouring the whole bag in minutes.
Orange Chicken
Forget the fancy Chinese joint down the street. This stuff is so good, you'll forget it's from the frozen food aisle.
Mochi
Hand over the mochi and no one gets hurt.
Mini Brie Bites
These travel-friendly cheeses are staples in our bagged office lunches.
Hatch Chile Mac & Cheese
You can't go wrong with spicy mac and cheese. Period.
Gone Bananas!
We like to think of these as a healthy dessert, but the rich chocolate and banana combo makes us feel like we're cheating.
Triple Ginger Snaps
We may or may not have eaten a whole tub of these in one sitting. Don't judge.
Fig & Olive Crisps
These sweet and savory crackers are easy crowd-pleasers for any party. Just whip 'em out with a yummy cheese plate and you'll be the best hostess ever.
Mini Dark Chocolate Mint Stars
Get that Thin Mint fix with these little pieces of heaven.
Speculoos Crunchy Cookie Butter
If Trader Joe's had a hall of fame, this would be in it. It's a party for your mouth.
Chile Lime Seasoning Blend
We sprinkle this on everything: steak, chicken and even fruit.
Balsamic Glaze
This stuff is great for a quick marinade for chicken, fish or veggies.
Uncured Bacon Jam
Bacon, good. Jam, gooood.