20 Ways To Accessorize Your Box Braids If You're Tired Of Filigree Tubes
Vernon François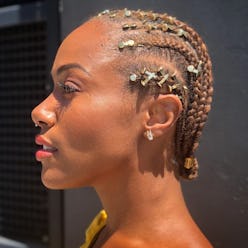 It's a memory that feels like just yesterday. When I was young and summer would arrive, my mom knew it was time to take me to the salon to get my hair braided, eager to put it in a style that she could be certain wouldn't interfere with my frolicking in pools for the months ahead. With each appointment came another opportunity to decide what color beads would be adorning my ends. And whether I opted for a simple clear or white bead, or one with some added color and pizazz, having the freedom to choose accessories for my box braids became one of my earliest memories of creativity. So while there are still very few feelings more satisfying than setting my natural hair free, allowing the breeze to penetrate every inch of my scalp, more often than not I'm still wanting to continue to keep my hair protected, and frequently doing so through styles like box braids and twists.
But over the years as protective styles have evolved, so have the accessories available to add to them, proving time and time again that the creativity of Black women is endless. "You can add just about anything to your box braids," New York City hairstylist Orie Yo, whose clients include Elaine Welteroth and Aurora James, tells TZR. "With each accessory added, the style takes on a new personality." However, just because there are boundless options, that doesn't always mean everything is for everybody, nor that the look requires tons of decoration. "Braids are so beautiful and not to mention they take hours to install, so I would recommend letting the style and braids take front and center and accessorize to enhance the look," editorial hairstylist and founder of Hair On Purpose Olubunkola Ojeifo says. "There are a lot of trends out there that are cute, but won't always match your personality and aesthetic, so allow yourself room to explore, but stay true to what feels good to you. Protective style accessories don't have to be hard to find."
But no matter your style or your price range, you can guarantee that there's something perfect out there for you and whatever vibes you're looking to achieve. Ahead, check out 20 box braid accessories that'll add new life to your protective styles this season.