Why Designer Aurora James' Met Gala Look Took 5 Months To Make
Photo: Christopher Sherman and Jun Lu.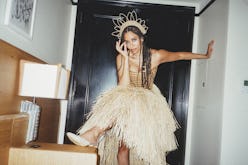 This year's Met Gala carpet was one bursting with eye-catching, over-the-top looks. Katy Perry arrived as a Chandelier and Lady Gaga transformed her look into four separate outfits. But, Aurora James, the designer behind Brother Vellies had a different interpretation of the nights theme, Camp: Notes On Fashion, in mind. The winner of the 2015 CFDA/Vogue fashion fund has established herself among the industry as a creative that not only prioritizes forward-thinking (and fun to wear) designs, but also her impact on the industry. So, it should come as no surprise that Aurora James' 2019 Met Gala look puts a fresh perspective on the night's Camp theme. Below, James gave TZR an intimate behind-the-scenes look at her night-of, all while explaining the back story of her self-designed ensemble.
"As soon as I read Susan Sontag's Notes on Camp I knew what I wanted to do. She talks about the idea of campiness in this very acrylic over the top way. She also states that 'camp cannot be natural.' For me that was an idea I didn't totally relate to," James explains to TZR. "I wanted to create a counter narrative to that suggestion. A narrative informed by my time and work in Africa with natural materials."
James began by designing three separate looks — one for the red carpet, one for the after party, and one that ultimately wouldn't make the cut. She chose natural materials like bamboo, raffia, wood, and feathers and began the process of putting everything together.
"Sontag's Notes On Camp focus largely on groups that have had the privilege of access to manmade synthetic materials — sequins, Swarovski, tulle," she explains, noting that her personal experience with Camp was strongest during her travels to Africa. "The black narrative seems to be missing from her notes. Are the over the top floral headbands not just a rift on the women of the Omo Valley? We know where animal prints come from. And is an orchid not the campiest beauty of all? I think the true Queen of Camp might actually be Mother Nature. And something tells me, she's black."
As her vision came together, James was drawn to a single photo on her mood board, that not only helped to guide the look, but led her to an unexpected end. "I didn't know the origins of the photo, but it looked like a grass hut in a very sterile environment," said James. "A couple of weeks ago I traced the photo back to an installation from the artist Simone Leigh. Throughout the process of creating the dress I wrote her frequently for feedback and guidance — both aesthetic and construction. Who needs a stylist when you have an artist muse to guide you?" James' look also included a custom bag, with a chain-link handle carved entirely from a single piece of wood, a headpiece, and of course custom Brother Vellies shoes (she also designed footwear for Nicki Minaj and Halsey).
Production on James' ensembles began in January, with raffia being worked on both in Kenya and in Italy. A month out, an artist named Emily Ridings began work on the bodice of what would become James' red carpet pick. "I fell in love with her basket work when she presented her finals at Pratt last year." But, though the process began weeks in advance, there were still details that came together at the last minute. Explains James, "my assistant finished the after party dress at our hotel while I was at the Gala."
Though she admits that she felt nerves getting ready, "walking the red carpet at the Met Gala alone is terrifying," she notes that her red carpet look was surprisingly comfortable. And once she made it up the grand staircase and past the receiving line made up of Anna Wintour, Harry Styles, Serena Williams, and Lady Gaga, she could finally enjoy the evening alongside her friends.
"I am so lucky to have friends who are phenomenal designers — Brandon Maxwell, Kerby Jean-Raymond, Prabal Gurung... so seeing them in their element is incredible." On her way to the night's after-hours celebrating, James switched to her second look, complete with a second butterfly-embellished headpiece
As for James' favorite reactions to her custom looks: "A few people came up to me and said it felt like home or reminded them of where they were from and that was amazing to me." Though the Met Gala in many ways represents that glamour and opulence that James mentions from Sontag's essay, through her work the designer was able to literally bring it back down to earth.