Why Everyone Is Asking For "Passion Twists" This Summer
instagram.com/jaleesajaikaran (via @_braided)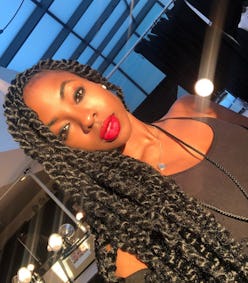 As the creativity of Black women continues to soar in the beauty realm, people are discovering new ways to add flair to the traditional protective styles that have existed for centuries. (Think: knotless box braids, goddess locs, and more.) And even though winter is over, the need and desire to maintain your curls is ever-present. That's where passion twist hairstyles come in; the beachy, silky, faux-loc style you can't avoid on your timeline is requested in salons everywhere. With summer approaching, it's a look that will leave you dreaming of tropical islands, and looking like you belong on one.
Kailyn Rogers (AKA The Boho Babe), a Miami-based hairstylist, didn't necessarily have sandy shores in mind when she came up with the style... but she isn't complaining about its widespread popularity and versatility. And as we're seeing more and more emphasis on undone hair on the runway and the red carpet, Rogers' discovery comes with perfect timing.
"I've always been about styles that are deeply rooted in Black culture, and I wanted something that kind of resembled goddess locs, but also looked like our own hair twisted," she tells The Zoe Report. "In January of 2018, I was thinking and meditating on how I could create a style like this and one day God just brought it to me and I immediately got up and went to the hair store. I got the hair that I thought I could use to create the style, and did it on myself. I didn't know how it was going to turn out or anything, I just did it, and it worked on the first try."
The 22-year-old, who's currently in the process of trademarking the name of the style, had no clue that passion twists would gain popularity so rapidly. But after endless inquiries about how to imitate the style came across her Instagram DMs, Rogers decided to make a YouTube tutorial. The September 2018 video, with over 600,000 views and counting, is what she credits with the spread of other stylists and self-proclaimed "kitchen beauticians" recreating it worldwide.
Creating the seemingly effortless appearance of passion twists isn't as easy as just winging it like Rogers did, though. Known for its undone appeal, the execution of the style is a bit more intricate than it appears. "If you can do a two-strand twist, you can do passion twists. It just requires more twisting and more pulling," she notes. Taking anywhere from four to eight hours to achieve, she applies a "twist from the root" method — which requires applying extra tension to the hair as you twist to ensure the security of each strand while maintaining its rugged, bohemian nature. "You start passion twists as you would any other twist style. Split the hair into two halves and twist down to where the natural hair ends. Then begin twisting with more force, and pull the opposite strand down as you go. That added tension is what keeps the hair in place and the curls in tact."
And while the twisting method plays a major role, it's the type of hair used that truly sets passion twists apart from other protective styles. Passion twists require Freetress Water Wave braiding hair, a silkier and curlier texture typically only used for crochet styles, the idea to use such hair is a testament to Rogers' expertise and creativity. At about $6 a pack online and in most beauty supply stores, Rogers suggests seven packs for average volume, and up to 10 for added density.
But as many see passion twists and assume that it requires more time and care than other protective styles, that couldn't be further from the truth. With a life span of up to two months, the style thrives off of being minimal manipulation just like any other protective style — it's that simple. However, if the curly ends that adorn the bottom of the twists become an issue, Rogers says a quick swipe with scissors will get the style right back on track.
Don't be mistaken: There's still care that must be given to the twists to keep your hair in optimal shape according to Brielle Johnson, hair expert and co-owner of Hair Confident Studio in New York City. There are a few major keys to keeping your natural hair healthy during periods of protective styling, she says: moisture, detangling, and retention — three things that must not only must be handled with balance, but also need to be happening on a daily basis.
"Hair [can] get damaged from a protective style, which is the complete opposite of the whole purpose," she says. To maintain the luster of the soft passion twist hair, retain growth, and minimize breakage while your hair is protected, Johnson suggests spraying a leave-in conditioner on the scalp. An at-home mix of water and tea tree oil does the trick, too. Combining the oil with water will allow for the produce to penetrate your scalp, rather than sit atop the hair shaft. Johnson, a Mizani hair educator, suggests a product like the fast-absorbing Mizani Scalp Care Calming Lotion to avoid icky buildup and eliminate itch.
Finally, when it comes to taking down your passion twists, it's imperative to move with caution. The last thing you want to do is tug on your natural hair too hard or cut where you shouldn't, says Brooklyn-based Glamour Queen Hair Salon owner Olivia Braithwaite. "You want to find where your hair stops, and then you want to cut below that point and twist in the reverse direction." Once the added hair is removed, Braithwaite says moisturizing and detangling is a must. She uses a tail comb to remove excess buildup, and encourages utilizing castor oil to soften the root if the hair is excessively tangled.
Now that you know how to care for your passion twists, prepare yourself to be amazed by some of the most innovative ways to wear them below.
In A Waterfall Bun
A style that looks so intentional with no effort at all. Assemble your hair as if you're going to pull it into a high ponytail. Instead of pulling the hair all the way through your elastic, stop halfway so the loose strands can fall toward the face.
With Colorful Accents
Hair accessories never fail to take styles to the next level. Adorn the twists with braiding cords and beads for a vacation-ready look.
In A Smaller Size
Size matters, in this case... and these smaller passion twists add a whole lot of volume to the style. Though the styling time may be longer, smaller twists are known to last longer and create a fuller look.
In A Different Color
Passion twists are the perfect way to add some color without damaging your real hair. The Freetress textures come in more than 15 pre-dyed shades, so take your pick!
In A Bob
Sometimes protective styles can feel a bit bulky, especially in warmer months. If this happens with your twists, simply trim to your desired length for a bob that's just as beachy (with less maintenance).