These 14 Thanksgiving Outfits Are The Ideal Mix Of Comfy And Cute
Christian Vierig/Getty Images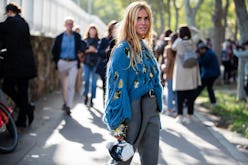 Your first Thanksgiving priority may be making sure that the stuffing has the right bread-to-celery ratio or that the sweet potato pie gets its marshmallow dusting. But, this year's potentially cute Thanksgiving outfit doesn't have to suffer in the name of success in the kitchen. Every family has their own approach to how they'll be spending the day, so your ensemble could be as simple as an elevated take on sweatpants and a tee, but you can also consider leather trousers and a puff-sleeve blouse, or even a velvet gown. You've nailed your recipes, so it's time to start brainstorming your look for the dinner table.
To pin down your ideal ensemble, start with the agenda. "Nothing says laidback and autumn like a chunky knit sweater," Babba Rivera, New York-based entrepreneur and fashion influencer, tells TZR. "Besides, wearing something comfortable is always a must post a Thanksgiving feast." She suggests pairing the cozy piece with a pair of high-waisted pants or a skirt.
If you're looking for an outfit you can wear all day, try a top and bottom that transition, and just add fancy shoes to finish things off. "I think a sweater with jeans and heels is always a great choice," suggests Jenny Walton, fashion illustrator and influencer. "[It's] the perfect in-between situation where you're not sure if it's dressy or casual, but now your outfit checks both boxes. I would probably do a dress and heels if I wanted something a little bit more impressive. I have a lot of fit and flare vintage dresses that always seem to do the trick."
For some additional ideas on what to wear as you catch up with relatives while eating turkey and mashed potatoes, below see 14 outfits that range from super simple to super elevated.
Lace + Animal Print
For a sophisticated Thanksgiving ensemble, copy Walton's look above. "I've been really into neutrals this fall so I would probably wear a cream or oatmeal sweater with a black lace skirt and leopard print mule, a favorite outfit of mine lately," Walton explains.
Jumpsuit + Heels
For an easy, polished look, opt for a denim jumpsuit paired with heeled booties. Add on layers by throwing on a black or white turtleneck underneath and piling on a scarf for additional warmth.
Play With Texture
This fall it's all about embracing leather in new iterations so try to incorporate it in your Thanksgiving outfit. Couple a lavish leather skirt with a cashmere turtleneck and finish with animal print boots for one last added texture.
Sweater Dress
A sweater dress is the perfect balance of relaxed and polished. If your day is on the low-key end, finish off the dress with sneakers. Or to take the look up a notch, pair the knitwear with heels.
Pop Of Color
To give a simple denim and top look some pizzaz, incorporate a bright shoe into the mix. Keep the rest of the outfit mostly neutral to draw eyes to the exciting hue.
Keep It Simple
If you aren't sure what the dress code is, an easy, yet stylish fall dress is your best bet. For a fun styling trick, wrap a cardigan around your shoulders and you're ready to go.
Elevated Basics
Amp up an all-black outfit by finishing with a statement blazer. Snake is the latest animal print to get behind, so if your style skews trendy, consider making it the focal point of your look.
Cozy Meets Chic
Introducing an outfit that's equally cute and comfy: a cozy turtleneck, chic mini skirt, and knee-high boots. Once the festivities are over, recreate the look for work or date night.
Fresh Colors
Not only can you wear this dress to an upscale Thanksgiving dinner, but it'll look just as lovely woven into your holiday ensembles. A minty hue is a fresh option compared to your typical dark winter colors like black and burgundy.
Sleek And Celebratory
If you're taking the comfortable route, consider a pair of satin track pants instead of sweats. Top wise, try out a contrasting fabric like denim or corduroy.
Stick To The Basics
Rivera's ideal look for a casual Thanksgiving is a soft sweater coupled with high-waisted pants. "My favorite knitwear piece currently is the grey crop sweater from Inexclsv, it has drop shoulder with carefully sculpted slouchy sleeves."
Dress Up Your Denim
For an effortlessly cool ensemble, dress up a pair of straight leg jeans with a dramatic sleeve, glitzy bag, and luxe slip on sandals. Swap for boots if you're somewhere chilly.
Elevated Pajamas
Thanksgiving may be one of the few holidays where you can pull off wearing pajamas, so sport your cutest pair. To elevate the look, pair your PJs with a sleek kitten heel.
Playful Prints
If you're celebrating friendsgiving this year, show up to the party with a vintage-inspired dress that's both funky and chic. Finish off the patterned mini with a pair of platform boots for a fun, '70s-inspired ensemble.