This Current Boots Trend Is Only Going To Get Bigger In 2020
Claudio Lavenia/Getty Images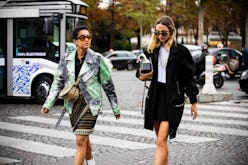 The last few years, fashion has been fixated on the idea of comfort. Sneakers have become an office essential. Kitten heels have displaced sky-high stilettos. That said, a new (or, at least, new-feeling) style has re-entered the zeitgeist: Platform boots are back on trend. While in some ways, they do align with the whole comfort agenda — a platform toe box and chunky heel are definitely preferred to a sharp stiletto — platform boots require a bit more precaution than you may have gotten used to these last few years.
So what can help describe the sartorial appeal of such statuesque footwear? When the question is raised to a few of the designers helping to champion the trend anew, the concepts of both power and comfort are raised more than once. "It is one of our most popular styles," explains Laura Villasenin, owner and lead designer of Miista, about the brand's platform Carlotta boot. "It has a slight heel and platform but it isn't impractical. It has taken inspiration from a '70s-style platform boot but is also contemporary and modern."
But, the history of the lifted sole is also more modern. Chelsea Hansford, Co-Owner and Creative Director of L.A.-based Simon Miller looked to her own '90s childhood. "I have never left the platform behind in my wardrobe, since I was young and wore RocketDogs to school," she says. "Heels always felt dressed up, but I wanted the height and power attitude with that relaxed, cool style, so I landed on platforms from a young age."
The Spice Girls' Geri Halliwell. Photo: Shutterstock
Diane Von Furstenberg. Photo: Susan Wood/Getty Images
During both eras, these tall boots may not have been normal nine-to-five attire, but for many women they allowed a certain physical lift, putting them eye-to-eye with their male counterparts. Today, these thick-soled statement boots have a new appeal — returning in iterations that work for both adventurous dressers and sleek minimalists. This past fashion week, the street style set gravitated towards chunky lug-sole combat styles from brands that range from Prada to Dr. Marten's. But, on the runway there were also a number of brands that offered up square-toed retro silhouettes — Louis Vuitton being a prime example.
Just like the variety within the trend itself, the styling can be equally as malleable. A taupe or black boot worn under trousers gives a subtle lift. Combat styles pair well with an ultra-girly puff-sleeve dress, and the more '70s-influenced shoes can add a cool twist to a basic jeans and tee combination.
Below, find inspiration to help you test out the trend along with a few must-try pairs to add to your cart.
Wild Side
Embrace the season's snakeskin trend by styling a pair of bold boots with dark denim that adds a bit of sophistication to the ensemble. Try a simple apron dress or a pair of flared jeans and finish with a leather jacket.
All Dressed Up
For an unexpectedly cool pairing, try styling a pair of retro platform boot
\\\\\\\\ b vg,ms with an ultra-romantic dress. You'll be ready to transition from day to night or uptown to downtown.
Edgy Florals
Add extra edge to a delicate floral look by styling with a pair of platform Dr. Martens.
Oh So '70s
For a retro-inspired look, try super-high platforms styled with suiting or leather separates. Try pieces in the same color story to keep the look from skewing too campy.
Subtle Lift
Chunky platforms can be sleek — just opt for a style made of slick, black leather that hugs tightly at the ankle. Style with a fitted dress for fancier occasions or try a tan trouser for the office.
Texture Play
If you're looking to add a bit of intrigue to your fall look, try playing with layers in a range of textures. A suede or patent croc boot pairs well with corduroy and knits.