Yes, You Can Still Wear Rose Perfume In The Winter
Dior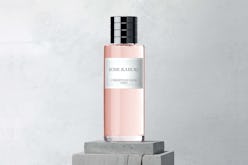 There are basically two ways for brands to make a splash when unveiling a new product: Introduce a cutting-edge ingredient that's never been seen before, or reinvent a classic in a fresh new way. The latest winter 2018 scents fall neatly into the second camp, thanks to the unifying note that ties them all together. Rose perfume for winter 2018 is trending, not that it was ever out of style — it's one of the most storied scents in the history of fragrance, and was the signature perfume of both Cleopatra and King Henry VIII.
Don't think that today's rose perfumes — including new launches from Dior, Carven, Chopard — are of the stale, overly floral variety favored by your grandma. In contrast, most combine a mix of fruity, spicy, and musky notes that feel distinctly modern and so different. Because as it turns out, a rose by any other name doesn't smell as sweet. Varied classifications of roses — like Bulgarian rose versus tea rose — actually have unique scent profiles, ranging from citrusy to woodsy.
Bulgarian rose, as seen in The Harmonist's Yin Transformation (which launched in September) and Chopard's Rose de Caroline, is typically derived from damask roses and brings a rich, earthy aroma with a hint of spice. If you're after a lighter, more herbal variety, opt for Beauty Pie's debut fragrance or the limited-edition Chloé Absolu de Parfum Spray, both of which feature rose centifolia, otherwise known as the cabbage rose. Diehard rose fans will want to look for rose essence, which is the the most concentrated form of the floral scent — and also the most expensive (the $595 price tag on Eric Buterbaugh Floral Gardenia Oud will attest to that). That's because it takes an astounding 250 pounds of petals to make just one ounce of essence, according to the University of Vermont.
Good news for those of you who prefer a unisex scent: Many of winter 2018's new fragrances (like the aforementioned formulations from Beauty Pie and Eric Buterbaugh) feature rose as a middle note, subtly mixed with grounding, musky layers, for an effect that's more universal than distinctly feminine.
Finally, if you need a little nudge to treat yourself, a scientific study done last year showed that the scent of rose has the power to ease the effects of anxiety and promote physiological and psychological relaxation. (I don't know about you, but starting 2019 with less anxiety from a pretty bottle of perfume sounds like a New Year's resolution I can actually keep.)
Ahead, discover the 13 new winter fragrances that reinvent rose in the most modern ways.
Shop New Rose Perfumes