Here's Where To Buy A Vintage Pillow Clutch Bag
Christian Vierig/Getty Images Entertainment/Getty Images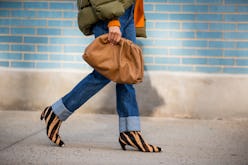 There's no ignoring that Bottega Veneta's accessories have taken over social media. Between the viral mesh 'Stretch' pumps and the woven 'Padded Cassette' shoulder bags, the Milan-based brand has once again proven its longstanding impact on the accessories market. A prime example, the viral pillow clutch bag has quickly become a must-have item amongst celebrities and influencers. Much like other cult trends, it's been recycled from previous decades. So if you're ready to add one of the pieces to your collection but don't want to spend a lot of money (or simply want to be more conscious when shopping), there are plenty of vintage options available to choose from.
With just one look at the Fall/Winter 2020 runway, it's becoming abundantly clear that the pillow clutch trend shouldn't be shrugged off as a fad. Generally decent in size (though there are an abundance of smaller iterations available), the slouchy silhouette is fully functional in real life, too, offering enough space for your essentials. You'll get a lot of wear out of whichever style you go with, but that doesn't mean you need to necessarily break the bank on a newer style. Instead, go with a secondhand option for a fraction of the cost and all the same appeal.
However, if you're simply hoping to be more thoughtful when it comes to bringing a new style into your wardrobe, going the secondhand route is a great way to embrace the new trends while sticking to your personal efforts. Regardless of the reason, continue on to shop TZR's must-have vintage pillow clutch bags, below.