This Is The Secret To Finding The Best One-Of-A-Kind Gifts
Lover Of Luxe/Etsy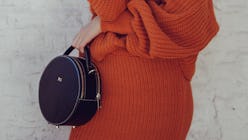 It seems as though it was only yesterday we were welcoming fall with open arms, embracing the drop in temperatures and of course, sweater weather. That said, the season of giving is quickly approaching, and if you're just starting to browse for your loved ones, you can never go wrong with a personalized gift from Etsy.
If you find yourself at a loss for what to buy your friends and family this holiday season, a personalized present is simply foolproof. Not only for the obvious fact that they're literally made for the recipient, but they also teem with an unparalleled amount of thoughtfulness and care. The only thing with more is, perhaps, something you made with your own hands. Plus, with the added personalization, they'll never have a reason to stop using or wearing them — gifts like these are just timeless.
Whether you're the kind of person who starts shopping for holiday presents as early as (or even earlier than) Black Friday, or the type who waits until last minute to gather your gifts, there's no better place to look than Etsy. As home to a variety of independently owned businesses specializing in handcrafted, custom, and unique goods, the e-commerce platform is an endless one-stop-shop for all your any personalized items you might be looking for.
Though the website's endless supply of options may seem daunting at first glance, don't let that discourage you from your search for special gifts anyone will appreciate. With enough digging, you're bound to find a diamond in the rough. In fact, there are a handful of stores in particular that will have exactly what you need.
There are jewelry shops that make everyday pieces such as this classic $29.50 stackable ring — a simple piece that all minimalists will appreciate — as well as paper companies like Ramona and Ruth, who makes this Franklin Gothic Personalized Letterpress Stationery Set of 100 for $175, a gift that anyone can use.
In the chance that you're looking for a holiday gift appropriate for a housewarming or just for a family friend, Etsy has you covered there, too. For your friend who loves to spend her time in the kitchen whipping up meals from scratch, a Rustic Flitch Personalized Rustic Olive Wood Cutting Board is an item the chef in your life will use for years. As for the ones who love to cozy up next to the fire during the winter months, this monogrammed pajama top from LG Linen is the perfect piece to lounge in.
Without a doubt, a personalized present will make anyone feel known and loved, whether they're a lifelong friend or a new acquaintance. Read on to see the Etsy stores that make the best personalized gifts for you to give to all the people on your list this year.