13 Handmade Gifts From Etsy For The Jewelry-Lovers On Your List
Sew A Song/Etsy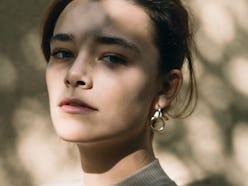 Believe it or not, Thanksgiving is right around the corner, making now the ideal time to get a head start on all your holiday shopping. Sourcing the perfect gift for your favorite people can be a tricky task — but one can never have enough jewelry, right? If you're not sure where to start, narrow in on handmade pieces that'll make for a memorable gift. And before your mind goes to DIY and friendship bracelets, think again — the selection of unique handmade jewelry from Etsy is a treasure trove of hidden gems.
Your previous experiences with Etsy may have led to hours lost with no results, but don't let the volume of product scare you away this time. From minimal modern pieces to bold designs and sophisticated shapes, there are styles to shop that are sure to wow every special person in your life.
You can score everything from standout necklaces and bracelets to rings and earrings, all of which are equally elevated and eye-catching. For those that err on the side of simplicity, shop modern necklaces and earrings that will make a refined statement. For those who don't shy away from the more ornate styles, opt for these delicate palm danglers from YUKA for $95. Handmade by an Istanbul-based jewelry designer, the line was a featured Etsy shop back in 2014 and has an average of five stars from reviewers.
Since you'll most likely be making numerous purchases during this time of year, finding gifts at an affordable price point will make these Etsy offerings even more enticing.
One particular piece that looks like it's sure to carry a high price tag (but only rings in at $61.22) is a porcelain ring from Gouttedeterre. Coming from France, this elegant ring is hand painted in liquid gold, making it perfect for special occasions, but just as wearable for everyday. Sew A Song's Linked Hoops also bring elegance to a simple pair of earrings, and at only $40.30, they're a steal you can buy for every jewelry-lover on your list.
Included in the mix are pieces that hit on the trends you'll be seeing from now into the new year. Secretly know your BFF has been looking for chain link styles or lusting over pearl detailing? Check out this under $100 easy-to-wear bracelet from Rock Salt Vintage and these timeless freshwater pearl hoops from Rebecca Gladstone for $72.81.
Don't worry about navigating through pages of jewelry until you can't see straight — instead, continue on to start shopping handmade pieces that have that extra special touch everyone wants in their gifts.