13 Affordable Jewelry Stores That Should Definitely Be On Your Radar
Jewels & Aces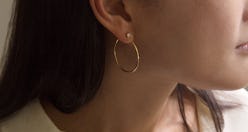 Expensive jewelry can break your heart. You'll be sitting around, casually scrolling Instagram when bam, you spot a stunning pair of earrings and fall in love. You click through to the jewelry store's website as fast as your fingers will take you, and when you finally arrive to where you can order your new dream piece — you're met with a $1,000 price tag. Sound familiar? You don't have to unfollow your favorite luxe brands (Instagram is the modern window shopping, after all), but you can save yourself some heartache by following cheap jewelry stores and adding their pretty pieces to your feed.
Besides the cheaper price tags, you can also find fresh fashion inspiration amongst the more affordable emerging brands. Thought-provoking jewelry stores like Jewels & Aces are undiscovered gems. With only slightly over 1,300 followers on Instagram, the brand errs on the side of minimalism, but approaches design with an expert hand.
One such genius piece: the $69 Hoop Ear Jackets. Created from 14k gold over sterling silver, slip the lightweight hoop jacket onto your favorite pair of studs to transform your simple earrings into a statement piece. Jewels & Aces has plenty of affordable stud earrings, too, if you're in need of a pair.
Sometimes, the cheaper brands are even on the cutting edge. Calling itself a pioneer of "ethical fast fashion", Soko designs affordable sustainable jewelry with a focus on locally-sourced, environmentally friendly materials. Organic jewelry, like horn and seashell, has made a huge comeback, and these horn door knocker earrings are already a cheap, stylish choice at only $68. But the one-of-a-kind earrings are also crafted from ethically sourced horn, and by Kenyan artisans using traditional techniques.
Not sure how to style your Soko? Take inspiration from a former First Lady. Soko is the brand behind the pretty statement ring and delicate gold drop necklace Michelle Obama wore on the December/January cover of ESSENCE magazine. You probably already know that Michelle Obama's style is iconic, and Soko also donates 20 percent of the necklace's sales to a charity that helps fight the global water crisis.
Like Jewels & Aces and Soko, Young Frankk's necklaces are as swoon-worthy as pieces triple the price. Young Frankk's sophisticated minimalism makes it one of the most exciting up-and-coming jewelry brands; the designs showcase the simplistic beauty of metal, often pairing it with uncomplicated elements like pearls. Clicking through the brand's aesthetically pleasing Instagram to buy one of the vintage-inspired pieces — like this gold-plated Classic Chain necklace that deserves to be worn 24/7 — won't lead to heartbreak, either; the Classic Chain retails for only $118.
Cheap jewelry gets a bad rap, largely due to the connotation that the materials used aren't as high of quality. While you should always keep an eye on the fine print of any jewelry you buy, more affordable brands than you may think use the same materials and techniques as many expensive stores. Continue scrolling for 13 gorgeous pieces picked from affordable jewelry stores.