How Michelle Obama's Hairstylist Cares For The Former FLOTUS' Curls — EXCLUSIVE
Debra L Rothenberg/FilmMagic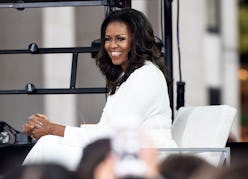 Michelle Obama could've easily faded into the sunset post-White House, living a comfortable and quiet life as a civilian. She could have rested comfortably in her Kalorama, Washington, D.C. home, dedicating her time to husband and former POTUS Barack Obama, Sasha, Malia, Sunny, and Bo. Personally, I'm so glad that she didn't. The forever, er, former FLOTUS just penned her first memoir, Becoming, and is graciously sharing her inspiring story with the entire world — all while looking fabulous, nonetheless. On the December/January cover of ESSENCE magazine, the former First Lady proudly wore her natural hair... a decision that wasn't just about optics. Mrs. Obama's hairstylist, Yene Damtew, exclusively tells The Zoe Report that it was a personal decision with so much meaning.
"It definitely was a moment — and still is a moment — for Mrs. Obama, the former First Lady of the United States and the first Black First Lady of the United States to be on the cover of a major publication with her natural hair," Dametew says, speaking of the 48-year-old publication geared toward Black women. "The timing of it was perfect. As we think of Becoming and her sharing her journey, one of the things she continuously talks about is that growing up, there weren't people on covers that looked like her. There weren't people on magazines that had wide hips or natural hair. It was an important moment for us to showcase, because she does wear her hair natural. We've seen little tabloid-y pictures of her on vacation or on Martha's Vineyard with natural texture. This was a moment where we discussed the cover, and where she wanted to showcase it."
In fact, Damtew played a huge part in Mrs. Obama's transition to natural hair. The pro (who assisted Johnny Wright, Mrs. Obama's former hairstylist) was primary stylist to Sasha and Malia Obama, as well as Marian Robinson, Mrs. Obama's mother. When Barack took office in 2008, Mrs. Obama still opted for relaxers (chemical treatments that straighten naturally curly hair). But Wright and Damtew don't believe in relaxers, and use alternative ways to achieve sleek texture. Soon, Mrs. Obama stopped getting them, too — and the rest of the household followed. "I knew that styling hair without chemicals was what I wanted to do," Damtew notes. "I had clients, such as Mrs. Obama's family, and was able to showcase that it's possible to train your hair to do anything you need it to do."
Damtew eventually opened up Aesthetics Salon, right outside of the D.C. area, where she doesn't even offer relaxers or keratin treatments... but that doesn't stop clients from calling. In fact, she's even encouraged her own clients — which includes business professional women on Capitol Hill, used to sticking to a traditional silhouette — to switch things up, just like Mrs. Obama. "People are scared to venture out and try something new," Damtew admits. "Sometimes, you don't want your hair to be the focal point. You want it to be about who you are and your background, instead of people talking about your braids or natural hair." Which is why Mrs. Obama serves as a perfect example of someone who balances both — she's about her business, clearly, but knows the power that lies within her curls.
Ahead, read more on how the historic magazine cover came to be, Damtew's favorite products, and Mrs. Obama's special technique for out-of-this-world body (hint: it involves dancing!).
The Blink-And-Miss-It Details
"If you look closely, Mrs. Obama's curls aren't all uniform on the cover. There are some looser curls and some tighter curls. You have to manipulate the curl depending on the look you want to achieve. Even with a flat twist-out, your hair won't be the same all the way through. I do a lot of finger curls to define in certain areas, in general, even when I use heat, to make the curl move in the way I want it to move.
"Usually, there are a lot of things — like fans — on set. On the cover, her hair is blowing... it's a wind-blown curl. Her hair doesn't look how it's been pictured before, as curls tend to fall. With any cover, people forget that it's a photo, a moment in time. Mrs. Obama is dancing in that photo, so there's movement. With movement in her body, you'll see movement in hair, which can change the shape."
Cocktail Your Products — & Tools, Too
Like many naturalistas, Mrs. Obama has different curl patterns in her hair. So to make sure that every curl and coil gets love, Damtew "cocktails" a number of products, she says. "Some people with thicker hair need more of a custard finish. Some people with looser curls need a gel. There are parts of hair that are looser. Maybe that takes defining with perm rods, or a small curling iron or a small wand to manipulate it."
How To Use Heat Without Damaging The Hair
"Take a skillet, for example. When you're about to sauté some onions and drop oil on the pan, it probably burns if the pan is too hot. It's the same thing with hair and flat irons or curling irons. Natural girls will use coconut oil and creams and custards to seal and lock their hair, and all of that stuff is amazing. But if they want to wear their hair straight, that buildup lies on the hair and causes breakage when heat is applied.
"I recommend that clients roller-set their hair instead of blowdrying it, because it's indirect heat as opposed to direct. And turn the dial down on the temperature gauge. You don't need to put the iron on 450. If you're going to use 450 heat, only do so for one pass. You shouldn't be swiping that iron on a piece of hair more than once.
"Personally, I prefer ceramic over titanium, because the heat distribution is very high with titanium. You see a lot more heat damage with titanium irons than ceramic. There are grooves in ceramic that are similar to an orange peel. You still leave some of that natural fullness and curl pattern in there, so it's not bone-straight."
Read more: Ceramic Vs. Titanium Flat Irons: Here's What Top Stylists Prefer
About That Shine (And Those Edges)
"Have some sort of oil in your hair while you do a twist-out, not something to spray on top. That's essentially a band-aid. Eventually, it'll penetrate into the hair, but it may not necessarily stay on. If your hair doesn't have natural sheen, it might be because of diet.
"As far as edge control, I use different things for different styles. If I need to slick wispy hairs down for a ponytail, I use the Göt2b Ultra Glued Invincible Styling Gel. I use Creme of Nature Argan Oil Perfect Edges for braids and ponytails. The KeraCare Styling Wax Stick is also good for laying edges, and really flexible when I straighten clients' hair with a little bit of body to it. I'll usually use that with a brush, and it doesn't get too greasy."
Shop Damtew's Favorites: