Heads Up: These Jewelry Brands Are Swiftly Becoming Cult-Favorites
Wolf Circus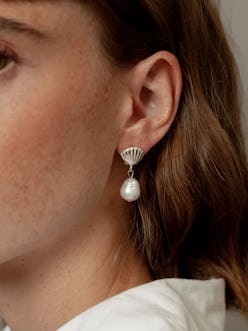 So many of our favorite women in the modern history of fashion have understood the importance of jewelry. Iris Apfel said her baubles have the power to create a million different looks. Elizabeth Taylor compared owning her collection to being a temporary custodian of beauty. And though legendary fashion editor Diana Vreeland claimed she knew nothing about jewelry as an investment, she found jewels, in particular, to be wonderful and extraordinary. Suffice it to say, you likely agree with all of the above and thus are perpetually on the prowl for new and emerging jewelry brands to add to your collection. So how do you find them?
Well, it's a lot of keeping tabs on who's wearing what on Instagram, for starters. Next, it's observing new designers appearing on trend-forward online retailers like Need Supply, Maryam Nassir Zaddeh, and Totokaelo. It's also what editors are seeing emerge in the marketplace as they take meetings with on-the-rise talent. In other words, it requires diligence, passion, and a ton of attention — but in the end, it pays off in the manifestation of a jewelry collection chock-full of covetable bijoux.
Below, you'll find nine emerging jewelry brands you should know about right now — and before everyone else catches on. From a sustainable up-cycle label that's your new go-to for a statement earring to an architectural designer who employs only recycled materials, scroll down to be in the know and give your next outfit the style upgrade it deserves.
SVNR
SVNR earrings are all made from found, re-used, up-cycled, and natural materials, but that's not even the best part. This brand artfully composites together different materials, shapes, and colors to create the most interesting earrings we've seen in a long time. Many are sold as singles, which is ample cause to experiment with a little mixing and matching.
Young Frankk
Christine Young's Los Angeles-based jewelry collection might have already caught your eye on Instagram. The pieces are crafted from recycled materials and the aesthetic nods to a cool, clean wardrobe.
Hernán Herdez
Designer Melissa Hernández offers a seasonless assortment of jewelry that's all handmade in New York City. Every piece is crafted with recycled metals and the aesthetic feels modern and artful.
Knobbly Studio
Self-taught designer Gittit Szwarc considers the human form when creating her jewelry collections. All of the pieces have a non-symmetrical quality to them, which gives the aesthetic a cool, effortless feel.
Mondo Mondo
Inspired by "archaic wonders and baroque ornamentation," there's something delightfully mystical about Mondo Mondo. The Los Angeles-based brand is playful, colorful, and the perfect way to spruce up a tee and jeans.
Mirit Weinstock
Though the designer has been around since 2011, her head-turning beaded hoop earrings have caught the eye of fashion insiders as of late and you'll now need a pair in every single color.
Noon
If a stunning-yet-subtle collection of jewelry is on your must-find list, then look no further. Noon pieces all have a delicate-meets-architectural quality that would work in any wardrobe.
Pichulik
Every piece in this collection is handcrafted in Cape Town, South Africa. The jewelry is a vibrant assortment of earrings, necklaces, and bracelets that we have no doubt would evoke a "who makes that?" sort of reaction.
Wolf Circus
This demi-fine jewelry brand based in Vancouver is full of delicate, versatile pieces that'll blend in perfectly with your existing collection. Go here for a new pendant necklace, silver ring, or earrings with a touch of personality.