Try This Minimalist Holiday Party Outfit If Sparkle Isn't Your Thing
Christian Vierig/Getty Images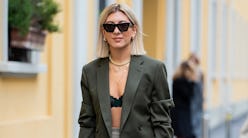 When it comes to the holiday event circuit, it's not easy being a minimalist. Sequins and beads, bold hues, and over-the-top accessories — all the trappings of traditional festive attire can feel directly opposite to the pared back, understated style that defines a minimalist's aesthetic. Dressing for seasonal occasions, be it a Hanukkah soirée or the countdown to midnight on New Year's Eve, becomes an exercise in balance. The perfect minimalist party outfit for the holidays should be something fancy enough to pass muster, but unfussy enough that you still feel like yourself.
When you eliminate the flashy fineries, the less in-your-face elements like silhouette, fit, materials, and thoughtful styling become paramount in creating a look that goes beyond your rote basics. Luxe textures such as cashmere, leather, and velvet can go a long way in making your outfit look more elegant and expensive, even if the pieces themselves aren't all that formal. A silky slipdress is a fashion-girl favorite that lends itself nicely to minimalist evening wear. For a tad more coverage and a welcome dose of comfort, try layering it with a soft knit and adding some cool boots in place of teetering stilettos. And don't underestimate the transformative power of a well-placed statement accessory — say, a sculptural minaudière, chunky gold hoops, or modern pearls.
Of course, there's always the trusty LBD in a pinch, but you might also consider winter whites in place of an all-black ensemble. Or, an alternative classic hue like hunter green, navy, or cranberry, which incorporate a bit of color in a way that still befits someone who likes to keep things simple.
Read on for some minimalist-approved outfit ideas to inspire your holiday party wardrobe from now through to the New Year.
Minimalist Party Outfit: Chocolatey Separates
In lieu of head-to-toe black, all-over chocolate brown is just as easy to wear while adding an extra-rich quality to the ensemble — especially when rendered in modern silhouettes and sumptuous textures like buttery leather.
Minimalist Party Outfit: Sleek & Structured
No one does elevated minimalism quite like Mary-Kate and Ashley Olsen. The Row founders are known for their signature aesthetic, defined by clean lines, smart layering, and understated luxury. Take your cues from the masters of effortless elegance and try a crisp oxford shirt and wide-leg trousers, or a structured coat dress for the next event on your agenda.
Minimalist Party Outfit: Suit And Bra
To amp up a formal look, try forgoing your shirts when styling menswear suiting. A delicate feminine bra underneath a tailored blazer lends a certain sex appeal that transforms the traditionally business-y separates for sultry, after-dark occasions.
Minimalist Party Outfit: Sweater And Slip
Cozy meets chic when you pair a slouchy turtleneck sweater with a long slip skirt and heeled booties. With an ensemble this comfortable, you'll hardly feel like you had to dress up at all.
Minimalist Party Outfit: Party Denim
If denim is the cornerstone of your closet, you'll be happy to hear that blue jeans can be party appropriate. Choose a darker wash in a trendy cut, and pair with simple pieces that have a slightly festive twist — maybe even the tiniest touch of sparkle, like a black velvet tank with delicate rhinestone straps or a sleek mini bag with some shiny metal hardware.
Minimalist Party Outfit: Winter Whites
Embrace winter whites for your next holiday fête with a mix of sinuous cream satin and soft ivory knit layers. The snow-colored textural combo can feel even more fashion-forward with some trendy snakeskin extras as the finishing touch.
Minimalist Party Outfit: Very Berry Top And Trousers
Cranberry is ideal hue for the holidays, plus it is one of the season's hottest color trends. Try a monochrome look with tonal variations of the muted berry hue, then add chunky gold hoops and some thick metal chains for a bit of festive shine.
Minimalist Party Outfit: Minimalist Metallic
Sparkles and sequins may not be commonplace in your sartorial lexicon, but a brushed silver silk is shimmery in a supremely subtle way. A slinky slip in this minimalist-friendly metallic offsets nicely with more substantial layers, like a boxy blazer or heavy knit, appointed in warm, quiet neutrals such as beige and fawn.
Minimalist Party Outfit: Dress And Pants
When the occasion calls for a dress, but you really just want to wear pants, this outfit formula offers all the drama of a sweeping frock with the convenience and comfort of full-coverage bottoms. Start with a streamlined pair of trousers as your base, then add a draped longline blouse or asymmetrical midi dress to complete the ensemble.
Minimalist Party Outfit: Jewel Tones And Tall Boots
Hunter green is a great substitute color for black, white, or gray. It feels festive without being too flashy or bold. For the ideal mix of dressy and subdued, opt for a simple jewel-toned satin shift with some slouchy tall boots, topped with a cozy neutral overcoat to get you there warm and chic.
Minimalist Party Outfit: Not-So-Basic Black
Update a classic black frock with modern jewelry, like sculptural pearl earrings and a long lariat worn in reverse so it dangles down into the V of a low-back number.
Minimalist Party Outfit: Blazer And Heels
For evening, style a trendy oversized blazer sans pants with black tights or patterned stockings per your personal preferences or desired level of dressiness. You can get even more bespoke with the rest of the outfit options. For example, add a slim turtleneck for a more modest vibe or go without anything underneath at all. Then for shoes, wear embellished heels if you're feeling fancy or cool ankle boots for something edgier and not so formal.