3 Iconic Carrie Bradshaw Outfits To Carry Into Holiday Party Season
HBO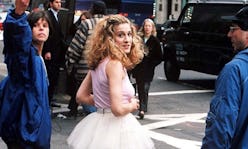 You'd be hard-pressed to reflect on legendary television fashion moments without mentioning Carrie Bradshaw's best outfits. Of the iconic friend group of Sex and the City, Miranda boasted logic and stability, while Samantha always demonstrated how to be bold and tell it like it is. Charlotte was the sensitive, devoted friend, and Carrie served up iconic outfits like it was her job. Though she wrote a column about the woes of relationships in the modern age, you'd actually think she was a fashion editor — because the girl knew how to dress. With holiday season officially upon us, now is the time to lean into glitzy, bold trends, and who better to look towards than Bradshaw herself.
From Carrie's musings on modern love to her love affair with Manolo Blahniks, she was relatable in more ways than one. Throughout the six seasons the show aired, Bradshaw's style evolved, but she never stopped serving up iconic looks. The epitome of eclectic style, Bradshaw broke the "rules" of fashion on the daily. Whether mixing prints, testing out experimental millinery, or casually wearing hot pants to the grocery store, she was in a league of her own stylistically and loved pushing boundaries.
If you're not sure what aesthetic to go for, why not pull from the archives of one of TV's most daring style icons? That means busting out the velvet, and grabbing those glittery, glammed-out pieces you'd generally think twice about. Whether you're searching for the perfect gown for a fancy gala or just want to look chic at the office Christmas party, Carrie's got a look for that. Ahead, take notes from the fearless fashion icon and shop The Zoe Report's Carrie Bradshaw-approved, holiday-ready picks, below.
We only include products that have been independently selected by The Zoe Report's editorial team. However, we may receive a portion of sales if you purchase a product through a link in this article.
Carrie Bradshaw Outfit: The Naked Dress
Carrie left little to the imagination on her first date with Mr. Big, but she didn't invent the alluring staple. Everyone from Kate Moss to Kim Kardashian has donned the simple, sexy style — and despite its name, it doesn't have to read too revealing. The best thing about an understated slip dress is that it offers endless opportunity — how you style it is the important part. Paired with Dr. Martens or strappy heels, the '90s-inspired staple is here to stay.
Carrie Bradshaw Outfit: Textured Tulle
Tulle can be tricky, but Carrie proved that the material can most definitely be utilized outside of elementary school dance recitals. When styled thoughtfully, the bold, voluminous texture is perfect for holiday festivities, and it doesn't have to come off as extravagant, either. Read on for a few accessible, grown-up options and how to style them the 2018 way.
Carrie Bradshaw Outfit: Chic Pajamas
Never forget the time Carrie trekked through a snowstorm all the way to Brooklyn to comfort a heartbroken Miranda. Not only was Bradshaw demonstrating the true definition of friendship, but she also proved pajamas and holidays are totally synonymous. That's right, underneath that long, lavish fur, was a set of PJs, and it was iconic. Ahead, shop comfy but chic PJ-inspired finds that'll make leaving the house in a snowstorm a lot more manageable.
This article was originally published on