Every Celebrity Maternity Look From The Archives That's Worth Bookmarking
Eric VANDEVILLE/Gamma-Rapho/Getty Images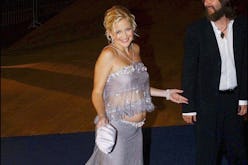 Pregnancy style has been tough to nail for decades, which in turn made successful celebrity maternity looks much more satisfying. Whenever a new starlet announces that they're expecting, it seems the designers fall right in line, working to commemorate the sartorial milestone. There was Beyonce's baby bump at the 2017 Grammy Awards, which Peter Dundas immortalized by way of two sequin-clad gowns. On a similarly glamorous note, Kate Hudson's sizzling silver-lining moment at the Venice Film Festival in 2003 — which dozens of style pointers can be drawn from, alone. And with trends from the last few decades making a comeback in every other category, there's no better time to look at the best looks over the years for inspiration.
Alternatively, the past holds just as many inspiring looks off the red carpet — take, for example, Chrissy Teigen's fragmented cream-colored ensemble, or Hilary Duff's coffee run uniform: a cornflower blue minidress and a sun hat. The archives have tons to choose from, and there are a smattering of "like" styles to help mothers get the look. Whether you're in your first or third trimester (or just have baby fever), you'll find flesh-flashing looks for those looking to bear more, and conservative looks that are fit for a royal.
All the pregnant-girl style inspo you'll ever need lies ahead, courtesy of your favorite A-listers.