Where To Find Vintage Holiday Décor That's Equal Parts Nostalgic & Stylish
One Kings Lane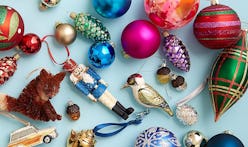 Having a box of heirloom holiday decorations you bring out year after year is a special feeling. But pretty glass ornaments accidentally fall off of trees and shatter, unlabeled boxes of decor get lost in moves, and maybe grandma just didn't like to decorate. Regardless, just because you weren't handed down a box of decor doesn't mean you can't own vintage holiday decorations. There are four websites that specialize in quality vintage to browse if you've been searching high and low for nostalgic holiday decor.
Obviously, Etsy is one of the first that comes to mind. Though it can be difficult wading through the huge selection of products (looking up "vintage holiday decor" on Etsy pulls up 79,491 products), the pay off is worth it. Etsy is one of the more affordable vintage sites to shop, undoubtedly because its market is so saturated. Pieces like this 12-piece vintage ornament collection kept in an original box only retail for $38.
Being hyper-specific when browsing Etsy will only help you find what you're looking for faster. Looking up something that feels like it may be hard to find — like "Christmas tree music box" — still pulls up 389 products, so you may as well search for the exact song you want it to play, too. Adding in "Silent Night" pulls the search down to only 40 hits. One of those is this detailed mid-century Christmas tree music box dated to the 1960s, covered in detailed appliqués and beads — and still only listed at $46.
If you can handle the thrill of an auction, Everything But The House is another place to find vintage holiday decor. The website specializes in estate sales and often has hard-to-find vintage at incredible prices, like this limited edition Norman Rockwell collotype that sold for $1150. Don't let Everything But The House's ended auctions distract you from the daily sales you can find, though, which includes this Norman Rockwell Franklin Mint Christmas plate currently sitting at just $103.
You may not have the time (and patience) to wade through thousands of products or sit through a competitive online auction. If so, One Kings Lane and 1stdibs are your vintage sites. Both curate a selection of higher-end vintage at fixed prices, though 1stdibs does give you the option to submit offers if you can't resist haggling. 1stdibs also has what may be the most consistently luxurious vintage holiday decor: this modern silver menorah was originally made in the '60s and is for sale at $850.
Browse One Kings Lane's holiday decor edit, as well, because it's a treasure trove of chic nostalgia. Measuring at approximately two yards, this pink Christmas tree tinsel garland is for sale at $49 and will pop against the dark green of your tree. Match the tinsel's warm pink by picking up this dusty rose mohair Christmas stocking for $149 while you shop; Greek key trim gives away that this stocking is a vintage piece.
Regardless of how you approach the art of vintage shopping, this can be the year you start collecting pieces for your own vintage-filled holiday decorations box. Keep scrolling for 11 stylish pieces to score on One Kings Lane, Etsy, 1stdibs, and Everything But The House.
One Kings Lane
Etsy
1stdibs
Everything But The House