The Best Valentine's Day Beauty Gifts To Get Your Loved Ones — & Yourself
Joanna Vargas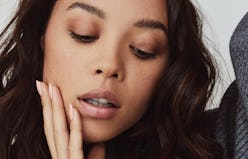 One of the very best things about Valentine's Day these days is that it has evolved to be more than just a holiday for happy couples. Yes, it's a beautiful thing to celebrate your significant other if you've got one, but Valentine's Day presents a perfect opportunity to send some love to anyone who's special in your life — be it your best friend, your ride-or-die coworker, or your big sister. And what better way to show you care than giving Valentine's Day beauty gifts that encourage a little extra self-love on this special day? Some of these are so good, you'll likely snag some for yourself too.
Thankfully, the most romantic day of the year is no longer reserved exclusively for those actually in relationships. And whether you'll be cozying up with a special someone this year or not, Valentine's Day is a great time to gift everyone you hold near and dear (including yourself). With tons of lovey-dovey vibes filling the air, it only makes sense to snag some pretty beauty products that'll please your loved ones, and push them to practice self-love — because that's the most important relationship of all.
If you're planning a girls' night in on the Feb. 14, stock up on some pretty skin care products to pamper all your closest gals. While you're watching a movie and sipping wine, have everyone indulge in a deeply nourishing Joanna Vargas Forever Glow Face Mask, $75 for a set of five. Send them off with a second glow-getting mask for the next time they schedule in some me-time. Or, gift your girlfriends with Grace & Stella's Rose Quartz Derma Facial Roller, $29.95, which will help them de-stress and discover a more radiant, toned complexion.
For your loved ones who appreciate luxurious presents, surprise them with a pretty fragrance for themselves or their home. Guerlain's $94 Mon Guerlain Eau de Parfum is a spicy, bold, and feminine perfume that's perfect for anyone who prefers to stand out. If they can't get enough of luxe candles, Diptyque's richly-scented limited-edition Centifolia candle, $72, is the ideal Valentine's Day gift — grab one for yourself too, since the sweet-smelling candle won't be around forever.
Buying beauty products is a meaningful and personal way to bring a little joy to your favorite people on Valentine's Day. After all, if they're in your life they must be special — so show them just how much they mean to you by shopping these gorgeous gifts, below.