These Stunning Essential Oil Diffusers Basically Double As Works Of Art
vitruvi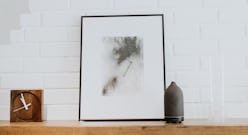 Congratulations are in order: you've completed the first week of 2019. But while you may have KonMari'd your way through your house — or, at the very least, watched all the Tidying Up with Marie Kondo episodes on Netflix — the time of year when lofty New Year's resolutions get thrown out the window is fast approaching. Rather than leave a resolution to practice more self-care behind in the dust, just get your hands on a few pretty essential oil diffusers.
No, an essential oil diffuser won't organize your closet, or keep you from scrolling social media feeds before bed every night; like any holistic medicine practice, arming yourself with essential oil facts is vital before purchasing your first set. But the aromatherapy itself — in the form of diffused essential oils — may be the thing you need to unwind after a long day. One study performed by New York‐Presbyterian's Weill Cornell Medical Center showed that lavender-scented aromatherapy noticeably reduced anxiety for patients waiting for surgery.
Reducing anxiety? That's a resolution to stick with, and diffusers make at-home aromatherapy easy. Since essential oil diffusing has become so popular, you have your pick from diffusers that basically double as art pieces for your home. The clean design of vitruvi's essential oil diffusers landed the machines at Anthropologie, goop, and Sephora — with the latter two brands even independently collaborating with vitruvi to create a gray diffuser and blush pink diffuser.
But true minimalists will fall in love with vitruvi's black stone diffuser. The $119 machine echoes the standard diffuser shape, yet the ceramic body's matte black finish makes it look at-home on a well-arranged coffee table, or displayed with pride on your mantel. Thought went into how the machine would run in your home, too: pick the green light setting to keep the machine running for three hours, nonstop, or the orange light for 30 second intervals of diffusing every seven hours.
You may want a diffuser that doesn't even nod to the traditional diffuser shape, and you have options there, too. Free People's $70 Ease Diffuser hardly looks like an essential oil diffuser at first glance; the Moroccan lamp-like metal cover filters the interior color-changing LED to create dancing light in your living room. And then there's the diptyque's electric home diffuser, which uses specially made scent capsules, and retails at $350 — and, before you even click, it's as luxurious as you think.
Practicing little acts of self-care like aromatherapy this year will add up over time, resolution or not. And if you want to just buy a diffuser to make your bedroom smell nice? That works, too. Below, nine essential oil diffusers that for a variety of interior design aesthetics. The only thing left for you to do is to decide which essential oils to buy.