Here's What To Gift Your Stylish Friend Who Always Has The Best Vintage Finds
Vaux Vintage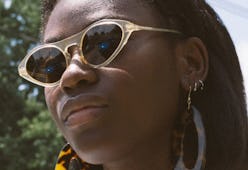 Everybody has that one friend — you know, the person who lives for finding a cool vintage store before anyone else and always wears pieces that leave you wondering how they possibly found something that unique. It's fun to have someone in your life like that, especially if they're kind enough to share their shopping secrets. But when it comes to finding gifts for vintage fashion lovers? That's a different story.
If you're starting your holiday shopping and have something for everyone but your friend who loves to thrift, relax — there are stores out there that'll make it a breeze to find a present so good, your gift recipient might even ask you where you found it.
If you're not familiar with any vintage stores, you may not realize that you can actually do your thrifting on the internet these days. And even if you already have that knowledge, chances are you haven't fully explored the treasure trove of vintage stores the web has to offer.
Lucia Zolea is one of those treasures, and though its offerings aren't huge, the quality and impeccable style of the pieces it sells, including clothing, jewelry, and accessories, make up for the smaller selection. If your friend has been riding the pearl wave taking over Instagram, present her with these $180 Vintage Fine 14k Yellow Gold Pearl Hoops. And if she's not so much a jewelry fan, gift her this unreal Timmy Woods Wooden Tassel Bag for $320, which she'll undoubtedly treasure forever.
Some people just rock a coat like nobody's business — but trying to find a unique coat to gift that they don't already have can be impossibly tough. In that case, turn to Time's Up Vintage, a Copenhagen-based store, for a selection that'll leave you wondering how you're ever going to choose just one piece. Out of all the outerwear it sells, the '70s Hooded Rabbit Fur Coat With Fox Trimming definitely stands out as a gem. There are tons of other option to choose from, too, if that's not the style you're looking for, including a $427 red Burberry coat and a Yves Saint Laurent Orange Mongolian Lamb Fur Coat from the '90s for $3,993.
If you're working with a smaller budget, Wayward Collection has plenty of pieces at affordable prices. The 1980s Neiman Marcus Blue Snakeskin Bag is a very on-trend choice that'll prove your fashion knowledge, and it's a steal at $52. And if you're looking for something that'll stand the test of time, the 1990s Espresso Croc Baguette for $42 is a wallet-friendly, classic piece that won't ever go out of style.
If you've been stressing about the perfect gift for that person in your life whose vintage collection can't be beat, worry no longer. Ahead, 11 gifts (along with the vintage stores they came from, because good vintage finds go fast) that'll impress even the most discerning shopper.