What To Give Your Plant-Loving Friend If She's Got Enough Greenery
Brett Holmes/Shutterstock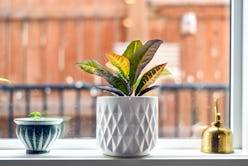 It's cooler than ever to be a green thumb. Even if you don't have a plot to tend to, the popularity of urban gardening has made it more accessible — not to mention stylish — to turn your home into a veritable jungle. And if you know someone who makes it her hobby to collect and care for greenery, there are so many spot-on gifts for the plant lover in your life that will help support her habit.
An obvious choice might be to get her a new plant baby — but that one might be a bit tricky. For example, you'd want to know what her indoor lighting situation is, though there are a number of types that are harder to kill even without a ton of sunlight. Also if she's a serious aficionado, she probably already owns many and you might want to avoid a repeat. Plant purchasing can be pretty personal, but if you do decide to get het a new baby, stick with something that's a little different (Even if it means asking about her current collection — she won't mind).
If you'd rather stick to accessories, a vintage-style mister makes caring for her plants so chic, it basically doubles as decor. And you can get creative with planters too: Consider how she can display her flora in different ways, like with a macrame hanger or a planters that can be mounted like wall art.
Then there are the gifts that have nothing at all to do with plant care, but rather just celebrate her passion. For example, jewelry with a delicate leaf print is a subtle way to show her plant lady status. That said, a cheeky mug never hurts, either. Want a few more ideas? See ahead for 10 plant mom-approved gifts that will encourage her hobby in the coolest ways.
LA-based studio Plant Planet creates modern versions of botanical prints that will instantly spruce up any space.
She probably enjoys getting her hands dirty with a little project, which is why this DIY-terrarium from The Sill is a great option.
Woven plant hangers are a cool way to use greenery as decor. This beaded one from World Market is perfect for a bohemian style home.
An abstracted rubber tree print makes this phone case just subtle enough.
Even her plant watering can be chic with this glass mister — great for plants that only need a spritz now and again.
She can make her plants her wall decor with this terracotta planter from West Elm.
Wolf Circus' pendant featured the most delicate leaf rendering that's minimal enough for any type of plant lady to wear.
So you've decided to add another plant baby to her collection (After all, they are good for your health). Start by checking out Urban Stems, which offers pre-potted options in beautiful, unique planters.
If you want a playful, on-the-nose gift, you can't go wrong with a good coffee mug that calls it like it is.