Gift This Seriously Stylish T-Shirt To The Cat Lover In Your Life
Raymond Hall/GC Images/Getty Images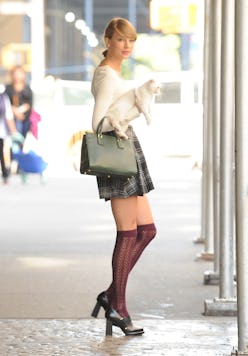 When it comes to pet merch, it's easy to get carried away — particularly when you happen to be the proud parent of a fur baby. But for every ridiculous or cheesy animal-themed mug or t-shirt, there's a legitimately chic option, and those can make some of the best gifts for cat lovers who adore their pets, but would rather not turn into a stereotype.
Everyone has that one friend in their life who takes their duty as pet mom or dad to the next level — and that's not necessarily a bad thing. However, even if they tend to veer into "crazy cat parent" territory with their apparel/decor/accessories choices (See: cat motif everything), you can still cater to their favorite theme and make it fashion. Besides the fact that beloved brands like Rodarte and even J.Crew offer some seriously stylish sweatshirt and tees that feature feline designs, you can also hunt for luxe goods that they won't be wearing at all. For example, cool coffee table books or personalized pet tags make for gifts that are equally thoughtful and unique.
And don't forget about the pets themselves! Even cat toys are getting chic these days (think nip-filled wine bottles or sushi rolls). You can also find cat trees, beds, and pods that seamlessly blend into the most curated home decor. So, if you're trying to track down a gift for a cat lover that's anything but cliché, tear you eyes away from those cats salami memes for a moment and check out the 10 options ahead that will please any pet owner — as well as her feline friend.