This Dog Raincoat Makes For The Perfect Holiday Gift For Pet-Lovers
Courtesy of max-bone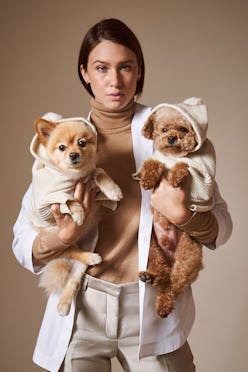 If dogs are man's best friend, man certainly treats their friends well. Yes, these days, it's not uncommon to see someone's precious pooch living a life of pure luxury — raw, organic diets, designer collars and clothes, state-of-the-art beds and crates. At this point, everyone knows a devoted pup owner (or is one) who takes their devotion to new heights. And while there's nothing wrong with this elevated standard of pet caregiving, it does present a bit of a problem around the holiday season. What exactly does one gift the dog mom whose furry angel is already living the good life?
As the proud owner of my own precious (and slightly spoiled) pup, here's a bit of advice for those scratching their heads over this one. Aim for pet gifts that the owner loves but might not necessarily splurge on themselves (read: their pet) during the holidays. What falls into this category, you ask? For starters, cute cozy apparel is always a great way to go. A pup-sized sweater or raincoat to keep their four-legged friend extra warm during the colder months is sure to be a crowd-pleaser. For chilly nights, whimsy pajamas or comfy beds could also make for a happy dog.
Now, if you want to keep things within your budget, there are plenty of equally thoughtful gifts for the dog mom. You can go the sentimental route and opt for ornaments, artwork, or pillows with her pup's picture or likeness. For great stocking-stuffers, grab yummy treats or squeaky toys for the pampered pooch. You can also prolong the gift-giving season with an Advent calendar of treats to open throughout December.
As you can see, there's plenty of ways to treat the devoted dog owner in your life this year. Ahead, 12 worthy items that will surely leave her and her fur baby very merry indeed.