10 Black Beauty Icons That Always Influence My Personal Style
Paul Natkin/Archive Photos/Getty Images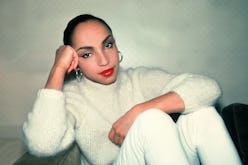 Very few people have influenced my personal aesthetic quite like the ultimate Black beauty icons of decades past. I'd been inspired by the women that I saw in music videos and glossy editorial spreads for as long as I can remember. Their signature styles, all unique in their own right, continue to make their way on my proverbial mood board today. From Sade's super slick bun and bright red lip to Aaliyah's ombré dye job, the beauty moments I obsessed over in my adolescence are still very much on trend today — and they happen to be a lot easier to recreate than you think.
However, it's nearly impossible to talk about the stars that inspired me without discussing how impactful it was seeing faces on a grander scale that looked just like mine. Even as a little Black girl growing up in Indiana, I knew I wanted to work in fashion at the age of 5. But because of my geographical location, my perception of beauty was a bit... skewed, to say the least. The world that surrounded me was made up of fair skin, blond hair, and blue eyes — as were the covers of the magazines that I bought in the grocery store. But I distinctly remember the moment I got my hands on the 2004 September issue of Vogue. My 10-year-old self was so excited and inspired to see Liya Kebede, the only Black model on what is now one of the publication's most memorable group cover shots, to date (though, at the time, I couldn't see the implications behind her image being tucked inside, rather than appearing front and center). For most of the world, they were "pretty faces." But for myself and many others, she represented Black beauty on a larger scale, in an editorialized and glamorous way for my generation (like Beverly Johnson and Grace Jones), that seemed unattainable. It gave me hope that my dreams of entering the industry could also come true.
Today, I still rely on the supermodel and nine other Black style mavens for inspiration. With decades worth of iconic moments to pull from, now is as good a time as ever to try their signature beauty looks out for yourself.
We only include products that have been independently selected by The Zoe Report's editorial team. However, we may receive a portion of sales if you purchase a product through a link in this article.