This Fall Trend Is A Carbon-Copy Of Hilary Banks's Style From The '90s
Nbc/Stuffed Dog/Quincy Jones Ent/Kobal/Shutterstock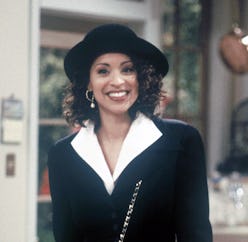 The word of the season, both on and off the Fall/Winter 2019 runways, is: Bourgeois. Often manifested in vintage jewelry and superfluous amounts of tweed, the term quite literally meant "members of the middle class" but was given a whole new meaning — translating to the ultra elevated interpretation of minimalist dressing, with a hint of glamour. As fall's overarching theme, it gave way to the 2019 skirt-suit trend — which your favorite celebs and front-row fixtures can't seem to get enough of. In fact, it's highly unlikely that there's any mood board out there right now without at least one style reference to this polished set from the '80s and '90s. Understanding that, like with most things in fashion, what goes around, comes around, this softer suiting option can be attributed to a number of different things. But when it comes to trying to bring the trend into current day, it often helps to take into account the influence of some of pop-culture's most memorable style moments and in this case, the skirt suit is to Hilary Banks what Manolo Blahnik pumps are to Carrie Bradshaw.
Karyn Parson's role as Hilary Banks is revered for her affluent spending habits, but The Fresh Prince Of Bel Air character from the '90s is more commonly known for her impeccable wardrobe. Most notably: her collection of skirt suits. And, the style icon's uncanny ability to make the vintage set feel cool and luxe is worth referencing when trying on the look for yourself. Plus, adding her signature flair to modern styles takes the guesswork out of tackling the trend on everyone's mind.
Heritage design houses, such as Chanel, as well as cult favorites like Seoul Fashion Week-darling pushBUTTON are all getting in on the trend — offering up a plethora of skirt-suiting options for fall. The Korean brand's classic plaid style features an architectural midi skirt for $480, that falls well below the knee, while the coordinating blazer, $740, is tailored in a traditional fit. But if you're looking for something more timeless, Veronica Beard's micro-mini set (jacket, $595; skirt, $350) rivals those found in your favorite vintage shop.
However, if you want to go the second-hand route, Elia Vintage is the one behind all those micro-mini skirt suits that Bella Hadid has been sporting this year (Danielle Bernstein is also a fan of the shop's findings). The pieces sell out within minutes of the highly-anticipated bi-weekly drops, so be sure to follow along on the brand's Instagram page for the newest styles. Take Hadid's lead and try experimenting with unconventional pairings, like sneakers or a slightly cropped knit for a fresh take. And with the temperature about to drop, just underpin the skin-baring styles with your pick of printed or patterned tights.
While you're automatically guaranteed a one-step outfit that's highly versatile, the pieces will be just as easy to wear with the staples already in your wardrobe. In fact, if you decide to invest in more than one skirt suit then you can mix and match, per the style mavens of the '90s.
No matter how you feel about the polished set, there's no denying that it's as smart as it is chic. And ahead, you can find some of TZR's selects to get you started.