10 Accent Chairs Under $100 That Are Practically Made For The Minimalist
Breadmaker/Shutterstock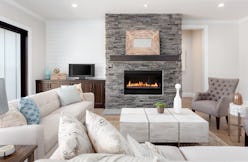 One should never underestimate the power of a great accent chair. Just the title alone signifies its purpose: to accent your room in such a way that lends distinction. The thing is this little added touch doesn't need to be over-the-top to stand out — it also doesn't need to have a price tag that leaves you winded. In fact, there are plenty of subtly stunning accent chairs for well under $100 that will lend the perfect pizazz to any room in your home.
The word subtle is probably particularly appealing to all you minimalists out there with a penchant for clean and sleek designs and neutral color schemes. For you, an accent chair can be the one pop of color or print you incorporate into your living space or the unique design that adds a unique element to your living space. In other words, accent chairs allow you to let your hair down, so to speak.
That said, minimalists are, well, minimal at heart and not often ones to get too eclectic with their decor. Fair enough. You can still have a little fun and experiment plenty with your design scheme, no matter what it may be. Maybe your walk on the wild side includes a cool rustic lounger with rich leather and reclaimed wood detailing. Or maybe you prefer a simple slipper chair in a cool jewel tone or pastel to break up the creams and taupes in your room. Or, maybe you want to go a bit modern and incorporate an acrylic chair with a textured pillow to add some monochromatic fun to the mix (since clear basically matches everything). However you want to dip your toe in, there's a pool of accent chairs for you.
Now, if the matter of price is still bugging you, listen up. There truly are a sea of affordable accent chair options at your fingertips, if you know where to look. Just because you have an eye for pricey one-of-a-kind vintage or designer pieces, doesn't mean you can't find something equally stunning for a fraction of the price. In fact, if you play your cards right, it's very possible you'll find a bargain item that'll have everyone fooled it's a pricey, rare find. What they don't know won't hurt 'em, right?
What's more is that these budget-friendly chairs aren't that hard to track down. Many of your favorite retailers are contributing to the affordable accent chair cause, including Target, Overstock, Wayfair, and World Market. That means getting the chair of your dreams might just be a matter of "adding to cart" and waiting a day or two for it to appear on your doorstep.
To help you get a taste of the home decor magic that is the accent chair, ahead you'll find eleven stunning buys that range in style and aesthetic, but won't cost you more than $100. That's right, $100. That means you can use all that money you saved and put it toward a coat of paint for an accent wall or some fun throw pillows, because these chairs are going to make you want to "accent" everything.