Minimalist Holiday Decorations Are A Thing, And Jenni Kayne Has Perfected Them
Jenni Kayne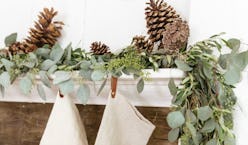 Minimalism and holiday decorating don't go hand in hand to most people, but Jenni Kayne is trying to change that. The Los Angeles-based lifestyle brand just unveiled a tightly edited lineup of minimalist holiday decorations that will make you want to swap out your seasonal jewel tones for natural shades of ivory and tan. And just like Jenni Kayne clothing, these holiday décor ideas are effortlessly chic.
You won't find gaudy glitter anywhere on Jenni Kayne's site. Instead, ceramic, leather, and natural fabrics dominate the seasonal releases, making Christmas linen decorations the sophisticated holiday staple you didn't know you needed. As surprising as it may be, linen is a 2018 winter trend, and Jenni Kayne employs years of working with organic fabrics to make the material work seamlessly as holiday decor.
Advertised as "easy accents", this linen holiday stocking is definitely an easy choice for minimalists. The $85 stocking is made from 100 percent linen with a genuine leather tab for mantel hanging. At 21 inches long, it's roomy enough for whatever little boxes Santa brings this year, but the neutral linen color will keep it from looking too eye-catching on your fireplace as you count down the days. Linen's simplicity is also perfect for anyone with no access to a fireplace and who has to hang stockings in non-traditional places.
Running a texture theme through your home is a simple way to decorate in minimalist style without sacrificing thoughtful design. Jenni Kayne knew you'd want to pop in another linen holiday accent somewhere after hanging up the stockings, and created this linen tree skirt as a counterweight. The $195 tree skirt comes in a natural linen color and is cinched with the same beautifully uncomplicated leather details as the stockings. If you've always been too minimalist to bother wrapping your Christmas tree in a skirt, this one will do the trick of hiding unsightly metal without overwhelming your floor space with color.
The great thing about minimalism is that the décor is so versatile. Other less holiday-specific pieces from the Jenni Kayne new arrivals will complete your minimalist holiday décor, and keep the style in tact. Though it's trendy to have a Scandi-inspired sheepskin somewhere in your home all year round, accenting your living room with this warm Jenni Kayne sheepskin for $145 adds in luxe holiday vibes. Keep poinsettias in this $115 small leather vase during the winter and sunflowers come springtime.
What is holiday decorating without candles, though? The Jenni Kayne candles, hand-poured in Los Angeles from natural wax blend, made waves when the brand first launched its home section. Finish decorating by burning the cozy the Cedar Matte Glass Candle, housed in a minimalist beige tumbler. The $55 luxury candle is scented with rose, tobacco leaf, and the always wintery cedar and fir needle to create an ambient holiday aura that isn't overcomplicated.
Thanks to Jenni Kayne, you don't need to sacrifice your minimalist aesthetic just because it's the holiday season. Shop eight relaxed pieces from Jenni Kayne's new seasonal releases below and get prepared for your chicest holiday season yet.