50 Weird, Cheap Things On Amazon That Are Legitimately Brilliant
You're bound to become obsessed.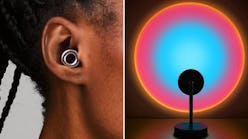 We may receive a portion of sales if you purchase a product through a link in this article.
Hair mayonnaise? Glow-in-the-dark pebbles? Frozen soup trays? Visit the depths of Amazon and you'll find some pretty funky products. So how do you know what works and what doesn't? That's where our commerce team comes in. Based on customer reviews and IRL testing, they've rounded up 50 of the weirdest Amazon products that are actually incredibly clever — and affordable to boot.
Some of them, like the instant chiller that gives you iced coffee in just 60 seconds, are bound to change your life (or at least your morning routine). You'll also find unconventional new ways to make your produce last longer or remove the sulfites from a glass of wine. And some of the weird little products, like a portable neck fan, are just plain brilliant. Read on for 50 of our favorite strange, cheap things on Amazon.