Designers Say This Simple Addition Will Instantly Elevate Any Gallery Wall
Unique ideas for pro-level displays.
Photo by Elizabeth Lauren Granger Photography / Courtesy of Stevie Interiors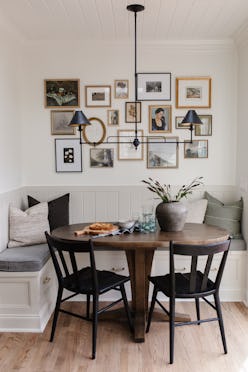 We may receive a portion of sales if you purchase a product through a link in this article.
The gallery wall is a detail in design that can be appreciated by many — it's endlessly customizable and easily conforms to a person's sense of style and preferences. Yet it's for that reason that creating one of these displays is so difficult; there's no end to the options, the configurations, or the looks that can be made, which makes it an intimidating thing to pull off. That's why, even for seasoned creators, it's always helpful to start with a few ideas for unique gallery walls to give you a solid place to start.
First things first, however: Remember that your display should be something that makes you happy. "Don't listen to others, especially when it comes to art," advises Stefanie Mullen, interior designer and co-founder of JJandStefanie.com. "Do what brings you joy. When you look at the wall, does it make you feel good?" So yes, while you can absolutely take inspiration from those around you, make sure you honor your own aesthetic at the end of the day. "It's easy to want to just duplicate what you see," Mullen continues. "You can absolutely duplicate the layout and even the frames, but choose art that speaks to you."
All of that said, you *are* here for new ideas, and there are plenty of those to guide you in this process. So find pieces that call your name, explore your personal style, and then continue on for expert advice, inspiration, and tips to help you create a unique gallery wall of your own, ahead.
Mix Old & New
Vintage is always a great way to add character to a space, and the same holds true for gallery walls. Meghan Basinger, CEO and principal designer of Stevie Interiors, tells TZR that she makes regular trips to a favorite antique spot to gather up old prints and frames to mix with new, modern options. "It's a great way to go beyond just mixing metals — you're mixing metals, age, and condition of the frames for a unique and collected look," she says.
Pick A Theme
If you want to make sure your gallery wall feels dynamic but stays cohesive, Susann Eva Goerg, interior designer, CEO, and creative director of happyhomes design, recommends sticking with a theme. To do this, she explains, you can mix and match frames in style and size; then, pick a single subject matter (such as your family) or color scheme for all your pieces.
Show Off Your Collections
Of course, gallery walls don't just have to feature framed pieces of art. As Grey Joyner of Grey Joyner Interiors tells TZR, they can be an avenue for showing off collections — of any kind. "Whether it's oyster plates, wooden boxes, or even shells collected from all of your favorite beaches, create a gallery wall to display these elements," she says. "In doing so, it often allows you to put different colors together as well as different materials." As Joyner continues, using a variety of shapes, sizes, and textures adds visual interest and can even make the room feel more cozy.
Paint The Wall
When you're creating a gallery wall, whatever you display is obviously of utmost importance. But so, too, is what's behind it. That's why Lindsey Jamison, partner and lead designer of Rumor Designs, recommends painting the wall where you're displaying your pieces. According to her, using a bold color here can actually make the artwork feel more interesting. "Always consider the backdrop before hanging any artwork," she reiterates. That said, don't just settle on any random hue: "The artwork and paint color have to work together," she clarifies.
Add Lighting
You probably put plenty of effort into creating your gallery wall — so don't let it sit in the dark. Jamison recommends adding lighting above existing art pieces, as it can be "a great way to elevate the space and draw attention to a room," she explains. That said, lighting doesn't necessarily have to be placed above. This gallery wall by Erin Lichy, founder and president of renovation and design firm Homegirl, was paired with apparatus sconces to the sides. She explains that these sconces and their placement "give off a dim, soft light, illuminating this little nook in all the right places."
Go 3D
The sky's really the limit when it comes to gallery walls, so don't box yourself in with basic artwork. Abby Gruman of Abby Leigh Designs actually recommends trying 3D art groupings (especially in kid and teen rooms) as a great way to incorporate hobbies and interests into the home. She provides a few examples of this from her own work, including a skateboard display and even a letter balloon sculpture installation. She does share one piece of advice, though, for pulling off this approach. "3D art groupings are fail-proof, as long as there is variation in each piece within the grouping," she clarifies. "Whether each piece is a different color, size, texture, or letter, it can be a fun addition to any room."
Use One Photo
Want to put the focus on one major piece? This idea from Stephanie Stroud of Stephanie Stroud Interiors does just that. She wanted to approach the gallery wall a little differently — so, she says, "We used one image of a black and white abstract on canvas. We then sized the image appropriately and divided it into nine individual paintings, each in its own gold frame." She explains this is a great way to go if you don't like visual clutter: "It is a more streamlined way to achieve a gallery wall feel."
Add Art Anywhere
As Mullen succinctly explains, "Gallery walls aren't just for long hallways or staircases." Rather, you can create them anywhere: "Over your bedside table or around a small mirror over the sink in your powder room." Basinger provides another idea in this vein. "If the space has a great corner, we love to wrap frames around two walls." Essentially: If there's empty space, there's an opportunity to create a gallery wall in your home.