Get Inspired By These Modern Twists On Traditional Lunar New Year Dishes
Celebrate in a fresh way.
Shutterstock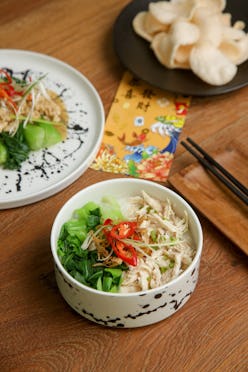 It may be nearly a month into the western world's new year, but for Eastern and Southeastern cultures including Chinese, Korean, Vietnamese, Japanese, Thai, Indonesian, and Malaysian, January 22 actually kicks off 2023, the Year of the Rabbit. Of course the date isn't the only major difference separating Lunar New Year from other new year's celebrations, this highly significant occasion is defined by its elaborate festivities — including feasts featuring symbolic food. There's so much respect for the tried-and-true recipes that fill the table during this annual event but, these days, many culinary enthusiasts are putting their own twist on passed-down recipes and trying out modern twists on traditional Lunar New Year dishes.
While classic celebratory dishes for the holiday range depending on region or cultural upbringing, the concept of having an abundance of food to honor deities and ancestors as well as represent good fortune and prosperity for the year ahead is across the board. Typically, dishes placed on a Lunar New Year table are anything but random: Each has been chosen for its symbolic meaning. For example, you're likely to find a whole chicken — head to feet — due to its association with family and togetherness, as well as the fact that its name, ji, is a homophone for luck, according to China Highlights. If the LNY festivities you're attending has fried spring rolls on the table, your host is hoping for wealth in the new year, as their crispy wrappers give them a golden appearance.
Wanting to shake things up this Lunar New Year while keeping the cultural significance of certain foods? There are plenty of ways to do just that. Case in point: TZR asked a handful of chefs and culinary experts who celebrate the holiday to share some modern versions of traditional dishes. From plant-based spins to East-meets-West takes and even a rabbit-themed cocktail, these eight (a lucky number in Chinese culture) options will get you inspired to welcome health, wealth, and happiness into the year ahead in a fresh new way.
Lobster Lo Hei
In Singapore, a Lunar New Year's table just wouldn't be complete without Lo Hei (or Lohei), a colorful raw fish salad. Traditionally, guests ceremoniously, excitedly toss in each component one by one to represent wishes of abundance (the name literally means "tossing up good fortune", as explained by Singapore's National Heritage Board). One way to put a new twist on the classic preparation? Switch up the seafood, like Ken Lin chef of NYC eatery Hutong. "This year we are preparing the traditional Lo Hei with lobster, a delicacy especially enjoyed during Lunar New Year, as our main ingredient in the dish for a fresh spin," he tells TZR. "The added lobster pairs nicely with the vegetables and spices and adds an elevated experience to our guests' palettes. You can also experiment with spices by utilizing different types of peppers ranging in intensity for more diverse flavors. Each person should personalize the dish full of their favorite ingredients representing their blessings for the new year."
Stuffed Napa Cabbage Pocket
Zoey Gong, a Traditional Chinese Medicine (TCM) chef, food therapist, and event producer, believes these nourishing cabbage rolls stuffed with tofu, red lentils, sweet corn kernels, mushrooms, and zucchini are perfect for a LNY celebration for a few symbolic reasons. "This stuffed cabbage pocket emulates the lucky money envelopes (Hong Bao) that we receive during the New Year," she explains. "It is filled with a balanced ratio of slightly warming and yin-nourishing ingredients based on Traditional Chinese Medicine, bound to bring you wellness and prosperity! Additionally, Napa cabbage in Chinese sounds like 'big, hundreds of wealth', symbolizing great fortune. The shape of Napa cabbage is also like a chubby baby, which is another classic motif for luck and abundance in Chinese culture."
Lucky Nian Gao
The color red signifies luck, joy, and happiness in Chinese culture. For this reason, Nadia Liu Spellman, author of The Dumpling Daughter Cookbook, adds a touch of red food coloring to her Nian Gao, a traditional sweet rice cake served during new year's festivities. "In our family, Chinese New Year meant red envelopes of lucky money for the kids and family meals with cousins, at home and at our restaurants," she says. "My mom's sweet, sticky rice cake was always a highlight. It's a steamed cake, cooked on your stovetop. Traditionally, eating Nian Gao for the New Year ensured you'd be promoted in the coming year. I didn't think about promotions as a kid, but I always ate as much as I could — especially for breakfast."
Vegan Lion's Head Meatballs
With the increased interest in plant-based diets, vegan options of Chinese dishes are becoming more and more popular, and Rowena Scherer, founder of eat2explore always makes sure to include a few in her Lunar New Year's spread, including her meatless take on the classic celebratory pork dish. "As my husband is vegan, I always make two versions of Lion's Head Meatballs," she shares. "[My] vegan meatballs are made of extra firm tofu, king oyster mushrooms, plus the same vegetables as the meat version (shiitake mushrooms, water chestnuts, scallions, ginger, garlic, and soy sauce). The broth is also vegan using Japanese style vegan dashi made from dried shiitake mushrooms and vegetable broth. These are cooked the same way as traditional Lion's Head Meatballs, braised with Napa cabbage."
Jackfruit Rendang
Scherer also whips up a vegan take on Rendang, a well-known Malaysian dish traditionally prepared with slow-cooked beef in a dry curry sauce. Here, the chef utilizes jackfruit, a native Southeast Asian fruit known for its meat-like texture. "Our Malaysian Chinese/Lunar New Year celebration always includes this very special and yummy dish," she says. "I make two versions — one with beef and one with young jackfruit. Both are cooked for hours (less time for the jackfruit version) with roasted coconut flakes, Rendang curry paste, and coconut milk."
Citrus, Apricot & Lavender Jam
Citrus fruits are often a part of Lunar New Year's celebration, and chef and installation artist Kara Vorabutr has come up with a creative way to utilize them for festivities in a creative, delicious way that has become her own family tradition. "We always end up with tangerines and oranges during this time from the temple and family members," she explains. "They symbolize luck, wealth, and prosperity because of their color and roundness. My family and I always have a ton leftover after the Lunar New Year so my mom and I make citrus, apricot, and lavender jam. This combo I had in Iceland at a cafe over 10 years ago and it's been our favorite since."
Money Bag Dumplings
Dumplings are a staple for many Lunar New Year feasts, due to the fact that they symbolize good fortune. For a 2023 take on the dish, Chef Helene An of Beverly Hills eatery Crustacean is filling hers with braised rabbit as well as leeks, lemongrass, garlic, and ginger. "Legend has it that certain foods bring extra good luck and fortune to one's new year, so we've crafted this special dish to ring in 2023 on the right (rabbit's) foot," she says. "After all, it is the Year of the Rabbit!"
"Rice Rabbit" Cocktail
According to Nations Online, in Chinese culture, rice symbolizes fertility, luck, and wealth. If you're looking for a unique way to enjoy rice this Lunar New Year, try a concoction dreamed up by the folks at Kikori Whiskey. The cocktail starts with glutinous rice washed whiskey, which you can make yourself by pulsing your rice in a food processor until it's broken up into smaller pieces, then add it to a bottle of whiskey in a separate container. Keep it covered in the refrigerator for three days, then strain it thoroughly using a coffee filter or nut bag. Once you've got this liquid, simply add some yuzu liqueur, umeshu (plum liqueur), and a few dashes of yuzu bitters and serve chilled with pickled umeboshi.