OK, Your Home Is Finally Neat & Organized — But How Do You Keep It That Way?
The Home Edit team offers genius advice.
@thehomeedit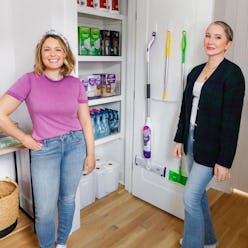 If the change in season is giving you the inclination to tidy up your home and reorganize spaces that have fallen by the wayside this year, you're not alone. The fall serves as a mental and physical refresh for many, and this extends to your living space. After all, for many, our home atmospheres are often extensions of our current emotional state, so keeping things in order is typically a sign of good mental health. But as you're tackling your living room or bedroom this fall, purging and giving things a rightful place, it's important to also think about how you plan to keep it this way though the end of year and into the next one. The dilemma of consistent organization is a common one, which is why the dynamic duo behind The Home Edit — and Netflix's hit series — tackled it in their latest book, The Home Edit: Stay Organized: The Ultimate Guide to Making Systems Stick.
"You need to change your mindset and accept it as a lifestyle that you want to be a part of," says co-founder Joanna Teplin to TZR at the Samsung 837 experience store in NYC. "It's not a one and done, it's a lifestyle." Fellow co-founder Clea Shearer seconds this notion, adding that the art of organization is similar to committing to a fitness routine. "Maintenance is part of the process," she says. "You don't go to the gym one time. It has to be kind of ongoing. But the great thing about organizing is that all of the heavy lifting is done on the front end. You put a lot of energy and effort and then the rest is plug and play."
It's also trial and error. Sometimes the initial systems you put in place aren't working, so you have to adjust and pivot to one that does. "For instance, if you set up a system in the entryway or in the mud room for every backpack, shoes, so forth and so on. If the items aren't getting into those places, you have to ask why," says Shearer. "Is it laziness? Or maybe was the system wrong? Did you put a basket in the wrong place or is it too high up? Is the barrier to entry too impossible to put things away?"
That all sounds easy enough in theory, but what if someone is inherently messy I ask, and dealing with lifelong habits that haven't been broken. Can an unorganized leopard change their spots? According to the duo, yes — but it's going to require transformation and the aforementioned mindset change. "They have to be a willing participant," says Teplin. Shearer seconds this noting that breaking deep rooted behaviors requires more than just a few quick and easy tips as it's "actually about changing their personality."
If you're just starting on your organizational journey, the entrepreneurs both stress the importance of starting small. "We normally say start with a drawer, but I think that if you're organzing for fall, I would actually focus on your entryway," says Shearer. "Even if it's not a formal mudroom in a house, maybe it's just an entryway in a New York City apartment. Having hooks, baskets, all of those key items ready to go. You obviously need a lot more in the cold season and in the fall like scarves and gloves. So have a drop zone ready so they don't just pile up."
Proving that even the pros have something to learn, the duo recently picked up a few game-changing tips of their own, thanks to their recent partnership with Samsung. Together, the two teams co-designed the laundry room at The Home Edit brand house in Nashville utilizing Samsung's ENERGY STAR certified products, in particular a washer and dryer with the brand's state-of-the-art energy management technology.
Shearer explains that the partnership felt like a natural fit since The Home Edit ethos centers around form and function. "It's smart systems, it's functionality," she says. "[Samsung] is also about smart systems, efficiencies and they have managed to put together this incredible looking appliance. It's so intuitive, it's so smart, knows so much about habits and soil levels and how much laundry and how little laundry and times of day to be the most efficient."
As organizers, Teplin says The Home Edit team is always drawn to data, so it was eye-opening to see the team's usage of water and cleaning products in real time. "Another fun fact that I'm obsessed with about this washer and dryer is it holds 32 loads of detergent in the washer," says Teplin. "And as an organizer who has to store people's detergents, I can say they take up a lot of space. So this is another space-saving and energy saving situation that they've offered."
"Yeah, as organizers, it really does us a solid to not have a giant container of Tide [to store]," says Shearer. "We really appreciate that."