This Year's Fall Home Trends Are A Departure From The Pumpkin Spice-Themes Of Yore
@cb2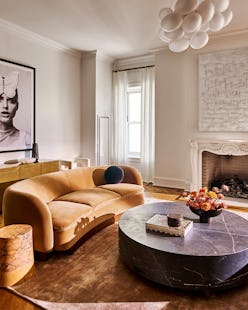 We may receive a portion of sales if you purchase a product through a link in this article.
Although the sweltering August heat is singing a different tune, the season of football, warm apple pie, and chunky scarves is a mere weeks away. And just like your wardrobe, your living space will likely need to transition accordingly. Now, certain traditional summer-to-autumn swaps are probably already on your radar: changing your bed sheets from lightweight linen to warmer flannel, tossing rich velvet and faux-fur throw blankets and pillows on your sofa for extra coziness, and incorporating seasonal home scents like cinnamon, spiced chai, and sweet cider. But, there are always fresh trends with every new juncture, and fall is no different. So, to rid you of the end-of-summer doldrums, take note of the latest home trends that will prep your living space for the colder months ahead.
Luckily, this fall's lineup includes some unique takes that will give your home a chic upgrade for the last quarter of the year. For starters, the typical autumn jewel-toned palette is being overshadowed by inky indigo and warm neutrals like burnt sienna, coffee, and camel. Also, call it the Taylor Swift effect, but farmhouse ginghams and plaids are being replaced for more folklore-inspired, pastoral prints and icons like birds and mushrooms (the latter of which are also having a jewelry moment). And although the wellness craze has been established for years, it's coming hard for fall decor, with chic prayer and meditation altars and crystals taking off in the final months of the year.
Ready to start stocking up for fall? Ahead, the six home trends that will turn your space into a chic Autumn paradise.
Pastoral Elements
Perhaps fall is in its Folklore era? Terri Daniels, one of the head buyers at World Market, says key icons like birds and mushrooms will be big this season, as will "heritage-inspired florals" in earthy tones like sage, taupe, and rust brown.
Wellness-Focused Decor
If August Anxiety is getting the best of you, get a head start on the wellness trend sweeping homes everywhere. Daniels says mindfulness- and self-care-focused products like mini altars, meditation stations, scent-scaping, and crystals will be embraced like never before.
Indigo
Sorry, Barbie pink. A deep indigo blue is coming into focus for fall, according to Daniels, covering everything from lamps and tableware to bedding and furniture.
Warm Neutrals
If rich jewel tones are not your jam, or perhaps you're in the mood for something fresh that still feels very fall, try a warm neutral palette, which Noah Morse, co-founder of Sundays furniture, says will fly high this season. "A neutral doesn't necessarily need to be beige or white — shades with colorful undertones like light blue or a rich rust work well with every style of décor, especially wood tones," he shares.
Arched Shapes
A departure from the free-wheeling natural form trend that dominated in 2022 and for the better half of this year, sleeker, more structured arches and orb shapes will be stealing the spotlight come fall, says Daniels. The rounded form will encompass lighting, decor, and furniture, so make sure to think outside the box this season — get it?
Statement Glass & Ceramics
Lisa Tornello from Millroad Studio says statement glass pieces and ceramics will add an artsy touch to your home this season. Think intricate handblown glass sculptures or lamps, ceramic centerpieces and vases for the coffee table, and uniquely shaped and colored glassware.