The Unexpected Italian City That Everyone Is Flocking To This Season (Hint: It's Not Milan)
Bodnar Taras/Shutterstock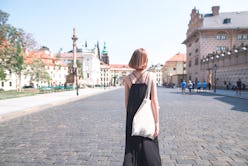 People say that one of their biggest travel regrets is being held back by finances. While it certainly costs money to jet-set all over the world, savvy travelers know that some of the cheapest cities to visit can make for picturesque and unforgettable getaways.
Thanks to deal-scanning sites and budget airlines, it's easy to score affordable airfare. That, in addition to Airbnb (because really, who needs hotels?), anyone can book a trip on a budget. Needless to say, it's no surprise that touring all corners of the globe has become the norm, because getting there is more accessible than ever before. And with the search for "budget travel" being on the rise (up 64 percent from last year, according to Pinterest), Airbnb released a list of 10 worldwide destinations with surprisingly affordable listings.
Ahead, check out the accommodation site's top picks, along with money-saving hacks from travel experts, advisors, and bloggers who've been there, themselves. From drinking wine in Bologna, to eating street food in Taipei, to seeing gardens in Moscow, you don't have to let money (or lack thereof) dampen your wanderlust. If the places below are on your travel bucket list, get ready to check off your most dreamed-about destinations.
Bologna, Italy
Believe it or not, your stay in Italy can be super budget-friendly. Head to Bologna, and you'll find plenty of Airbnb listings for under $75 a night, with many in the $50 and under range.
Katy Thomas, who created the travel blog Katy in Umbria, gives her tips on touring the city on the cheap. "A plate of pasta alla bolognese, a glass of light, slightly fizzy red wine called Lambrusco, water, and a cafe should come to €15, while the walking is free. For a quick and easy lunch, stop at a bar and try un panino con Mortadella, a sandwich with the famed cold cut for under €5."
She adds a hack that'll save money for sightseeing history buffs. "If you're interested in checking out some museums and art galleries, then the city card might be a good investment for €25."
Lyon, France
With Airbnb listings averaging $79 per night, head to Lyon on a dime, and you can say you've been to France.
"Lyon's old quarter, Vieux Lyon, is worth savoring, with streets every bit as atmospheric as in Paris," says Rachel Heller, founder of the travel blog Rachel's Ruminations. "For a bit of history, start at the Romanesque/Gothic cathedral of St. Jean Baptiste (free), dating to the Middle Ages; its stained glass windows are mostly original and absolutely magnificent in the darkness of the cathedral. From there, wander the narrow streets, moving slowly uphill as you explore, or else take the Fourvière funicular (€1.90) up the hill. In either case, at the top, admire the opulent interior of the 19th-century Basilica of Notre Dame de Fourvière (free). Stroll its garden and admire the views of the city. Jumping back further in history, visit the ruins of a Roman theater (free) nearby.
"To eat cheaply in Lyon, don't buy pre-made sandwiches," Heller recommends. "Instead, buy a cheap baguette at any boulangerie (baker) for under €2 and some cheese and fruit at a grocery or supermarket for a couple of euros more. You'll have enough for two meals: simple, delicious, and very cheap."
Busan, South Korea
The average Airbnb in Busan is a miniscule $47 per night. So while plane tickets to Asia can be quite pricey (although, you can still find some pretty sweet deals), you don't have to spend much once you get there.
"In Busan, most of the major tourist attractions are free," explains Bino Chua, the travel blogger behind I Wandered. "This includes the picturesque temples — Beomeosa, Seokbulsa, and Haedong Yonggungsa — as well as the modern architecture of the Busan Cinema Center. The lifestyle here is outdoorsy, with beaches right at one's doorstep; you'll also get to spot some of Korea's famed cherry blossoms in spring.
"A trip to Busan is not complete without visiting the village of Gamcheon, a former slum that has seen urban revival, thanks to its brightly colored houses and charming alleyways. There are so many free things to do in Busan that you probably won't need to spend on attractions while there."
Porto, Portugal
If Portugal is on your bucket list, don't let finances get in the way. Make a trip to Porto, where you can book an Airbnb for under $50 a night.
Tammy O'Hara, owner of Million Miles Travel Agency, says touring around town can be super affordable. "The city is very walkable going downhill, and public transportation is plentiful and inexpensive. A must-do, in my opinion, is to find a tile-making factory (I went to Gazete Azulejos). The tour is about three hours and includes a walking tour, coffee, and nata (custard tart), and the opportunity to make your own tile. It is about €40 per person."
O'Hara mentions that the food in Porto is especially cheap — and delicious. "Do a port wine tasting, try the bacalhu (salted codfish), the francesinha (go to Bufete Fase, one sandwich is definitely enough for two people, about €7 per person), and natas, [which are] available for €1-2. A lot of the bakeries also have a coffee or port special for €2-3, [which is] excellent for a quick breakfast or after-dinner dessert and wine. Go to Nata Lisboa, Majestic Cafe, or Fabrica de Nata."
Ottawa, Canada
With Airbnbs in Ottawa averaging $66 per night, tourists in the northern US can leave the country for cheap, and without stepping foot on a plane.
"Two of Ottawa's top attractions are completely free to visit," points out travel blogger Kris Morton, creator of Nomad by Trade. "Visitors can enjoy the Rideau Canal for free in any season, skating when it's frozen in winter or walking or running along the pathways in warmer weather. Guided tours of Parliament, including the Senate or House of Commons are also free, though it's recommended that you reserve tickets in advance online.
"Don't miss the Rideau Canal— a UNESCO World Heritage Site that runs through the heart of town. If you're visiting in winter, you'll want to check out the Winterlude festival, held there annually for skating and other cold-weather fun."
Prague, Czech Republic
Full of history and culture, Prague is the home of stunning architecture, and, it turns out, plenty of $10-$20 Airbnbs.
"Prague is as easy on the bank as it is to navigate with its top-notch transportation system," says Sara Graham, a brand and communications consultant and author of How To Make Big Moves: Relocate Without Losing Your Mind. "For the budget traveler, it's a no-brainer... beer is almost the same price as water."
Graham's first recommendation for a sunny spring day? "Grab snacks and rent a peddle boat for a self-guided cruise on the Vltava," she says. "This is a lovely low-cost way to see the bridges, which can often get crowded. (Approximately $13 for a four-person boat.) Craving pizza? Pizza Nuova does it best this side of Naples. Classic pizza Margherita ($7) and vino, with a downtown view. Invariably, there's always something going on in Old Town Square, even if it's just the usual throngs gathering to watch the medieval Astronomical Clock ring in the hour."
Bali, Indonesia
Want some time in a tropical paradise without draining your bank account? Head to Bali, where luxurious Airbnb accommodations can run around $130 per night (or as little as $30 for smaller spaces).
"Bali is one of the most magical places on the planet," says Erin L. McCoy, editor-in-chief of Let's Travel Spain. "One of the best things to do in Bali is to visit local temples, and these are usually either free or available to visit for a small donation. The Ubud Water Palace is gorgeous, flanked by ponds blooming with lotuses, and decorated with the most intricately carved figures. The colossal Besakih Temple is Bali's mother temple, and looks down on broad expanses from the peak of a hill. The Ulun Danu Beratan Temple, a short distance from Ubud, appears to float over a serene lake. These are just a few must-sees, and you can rent a taxi for a whole day for only a relatively small cost."
When it comes to food, McCoy says, "For low-priced local fare, check out Puspa or Warung Biah Biah, both on a cobblestoned, pedestrian-friendly side street at the heart of Ubud. For coffee, stop in at KAFE, a hangout for expats and digital nomads."
Rio de Janeiro, Brazil
Even budget-conscious travelers can check out this seaside city, where a variety of Airbnbs will cost you under $100 per night.
"During Spring break, Rio receives its fall, which is a perfect time to visit; not too hot, not too cold (if we can say that Brazil gets 'too cold'), and not too crowded," says Reylla Santos, a clinical and addictions counselor who's from Brazil. "[There are] plenty of places to visit, beautiful beaches, bars around the beach (you can drink caipirinha while enjoy the breeze), museums, breathtaking landscape. In Rio you also receive a lot of tourists; therefore, finding someone who speaks English won't be a problem. There are multiple options of things to do, places to go, and where to eat."
Further, she says, "Watch the sunset at the Arpoador, it's awesome! Eat a picanha [a cut of beef] at Garota da Urca, it melts in your mouth. The Santa Teresa neighborhood is cozy and artistic, so if you like these types of things, make sure you go there. The lake João Fernandes is also a cool place to go and have a peaceful afternoon or get active by taking a helicopter trip or doing some water sports."
Moscow, Russia
Yes, you can stay in Russia's capital city without going broke by booking an Airbnb between $40-70 a night. "One of my favorite things to do in Moscow during the spring is to visit the central botanical garden," shares Igor Bratnikov, co-founder and COO of Wanderu, a bus and train travel booking site. "There are numerous collections of flora from all over the world ... you have to pay an extra fee to get into special exhibitions, but those are usually around $5-$7, and are definitely worth it."
Bratnikov adds that, when it comes to museums, you can expect to pay an admission fee, but again, it's nothing that will break the bank. "On average, expect to pay about $8 at every museum you'd like to visit," he explains. "My two main recommendations include The Armoury Chamber, where you can see authentic royal jewelry dating back to the 12th century, and the State History Museum, because Russia is a country with such a colorful history that you simply must learn more about it to understand many of the cultural peculiarities you will run into as a visitor."
As far as nosh goes, "you can easily have a delicious three-course meal for about $20 at a popular local restaurant (not a fast food place or an international chain). My personal favorite is Khachapuri, a restaurant that offers authentic Georgian cuisine in a cozy laid-back atmosphere."
Taipei, Tawain
If this up-and-coming tourist destination is on your wishlist, consider booking a trip while it's still cheap — and local Airbnbs average $54 a night. "Taipei is worth visiting for its friendly folk, plethora of hot springs in the northern part of town, and its fascinating night market culture," says Chua. "If you are into Chinese culture, the National Museum here is worth a visit. Many of the artifacts were brought here by the nationalist government when they fled mainland China during the communist takeover."
He adds that the city's vibrant street food scene means that you should come hungry. "You definitely have to try street food such as stinky tofu (which entails some courage in order to try), oyster cake, and mee sua (thin noodles with soup)," Chua explains. "A typical way of enjoying street snacks is to go to the night market of your choice and to try different things from various stalls. You won't have to spend more than $5 to get your tummy filled. A personal favorite night market for me whenever in Taipei is Ningxia Night Market."