Designers Say This Buzzy Fashion Trend Is Coming For Your Summer Bedding
Color-blocking for the win.
@coyuchi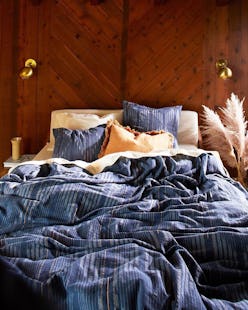 We may receive a portion of sales if you purchase a product through a link in this article.
Although there are materials and trends synonymous with seasons — velvet and jewel tones for summer, florals and pastels for spring, etc — there are always a couple specific trends that come in to shake things up a bit. This is certainly true for summer bedding. While linens and lightweight cottons are at the top of everyone's lists, there are a few other things to consider this year as the temperatures rise. Yes, just because bed linens are often a more practical purchase, doesn't mean they need to be boring. So, consider this your official PSA to take note of summer 2023's best bedding ideas and trends, which TZR has laid out here with the help of top interior designers and experts.
From natural materials to innovative temperature control technology, this summer (like every summer) is about keeping things calm and cool. But, according to the pros we spoke to, you can also expect a couple of twists to make things interesting. So, whether you stick strictly to the classics or are looking to get a little funky, there's a trend for everyone to try in this roundup of looks — along with styling tricks to pull them off. Don't neglect your bedding for yet another summer; instead, find a few fresh ideas you can easily carry out at home, ahead.
Color Blocking
With maximalism still going strong, this multi-toned trend is a natural fit for fun summer bedding. Just as it applies to dressing, it essentially involves taking two or more bold colors and pairing them together to create a visually appealing contrast on your bed. "Choose colors that are complementary to the rest of your room's décor, such as pastel pinks and blues for a more tranquil bedroom feel," suggests Raf Michalowski, interior designer, and the founder of Meble Furniture. "I would suggest using a patterned bedspread or quilt as the base, and then accessorizing with solid colored pillowcases and throws."
Natural Fibers
"Natural fibers are especially important during the summer months, as they help to keep you cool and comfortable," says Michalowski. "Look for bedding made from materials such as cotton, linen, and bamboo. These fabrics are lightweight yet still provide warmth when needed. In fact, natural fibers can help your body regulate its temperature more easily than synthetic fabrics."
Cooling Technology
Just because it's practical, doesn't mean it can't be trendy. With the rising temps that summer brings, work in innovative bedding that will keep you sweat-free and comfortable. "If you tend to get hot and sweaty at night, consider investing in bedding with cooling technology," suggests Reinis Butka, CEO and founder of Luminesy. "There are a variety of options available, including moisture-wicking fabrics and cooling gel pillows, that can help regulate your body temperature while you sleep."
Floral
Before visions of ditzy florals and loud retro flower prints pop into your head, consider instead more subtle takes on the dainty trend. "Contrary to the spring bedroom, we don't want too many prints or opposing patterns," says home improvement expert Forrest McCall, co-owner of home project platform Mama Needs a Project. "Keep the remainder of the space as neutral as you can while adding a few spots of vivid flower designs (maybe in the shape of wall art or even the bedding)."
Pink
Call it the Barbie effect, or perhaps the lingering impact of Valentino's Fall/Winter 2022 collection, but the reign of pink will continue through summer 2023. "Whilst bright, bold, lavish pinks are flirtatious and fun, in the long run, the micro-trend can quickly become distasteful and overwhelming to the senses," says Lucy Ackroyd, head of design at luxury bedding company Christy. "This is especially true for bedrooms, a place where you should feel safe and comfortable. Therefore, muted pinks that scream feminine elegance and won't go out of style quickly will be in many people's minds this summer."
All-White Bedding
If you consider yourself a traditionalist, you'll be glad to know that one of the most popular bedding looks of all time is holding strong for summer: the all-white bedding set. "White bedding is a classic choice for summer as it creates a fresh and clean look," says Brindha Dhanabalan, CEO of All Cotton and Linen. "It also reflects light, making your bedroom feel brighter and more spacious."
This article was originally published on