Linen Sheets Are The Spring Upgrade Your Bedroom Needs ASAP
@revival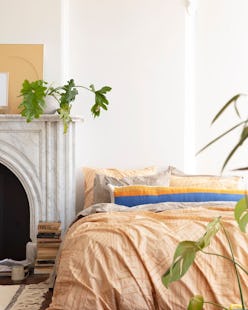 We may receive a portion of sales if you purchase a product through a link in this article.
The idea of prepping your home for a new season can be daunting for some. Upgrading color schemes, key items, or essentials in each room just seems like a lot of work, which is why taking baby steps is the best method to adopt as spring inches closer and closer. The first step to take? Invest in some quality linen sheets. Yes, this may seem trivial, but bedding is a key component to the home and your daily routine, considering the crucial role of sleep in one's life. Swapping in lighter, more breathable materials in the spring and summer can keep you sleeping more comfortably as the temperature rise.
"Linen sheets are a game-changer for the warmer months," says Jeremy Cai, CEO of lifestyle brand Italic. "Not only do they offer a more breathable and lightweight option for those who tend to overheat in their sleep, but they also have a naturally cool and luxurious feel."
Cai emphasizes investing in high-quality linen sheets that will stand the test of time and provide the ultimate sleeping experience. With this in mind, he says to make sure you are paying attention to the thread count when shopping for this type of bedding, as higher thread counts generally indicate a softer and more durable sheet. He also suggests "looking for pre-washed and pre-shrunk options to ensure the linen maintains its shape and texture after washing."
Jason Farr, interior designer and founder of design and outdoor living company Aviara Pavers, says it's also important to look for sheets that are 100% linen, "as blends can be stiffer and not feel as comfortable against your skin." Farr suggests brands like Brooklinen, Parachute, Snowe Home, and Coyuchi for quality bedding that is stylish as it is functional.
For those ready to get their bedroom spring-ready, shop the top linen sheet sets of the season. Hey, once you take this transitional step, the rest of your home will surely follow suit.
Neutrals
Pattern
Pop Of Color